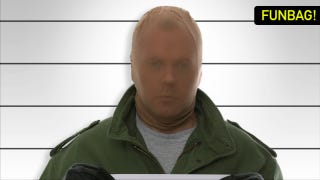 Time for your weekly edition of the Deadspin Funbag. Find more of Drew's stuff at KSK or on Twitter. Buy Drew's new book, The Postmortal, through here. Email the Funbag here. Today, we're covering porn, gorillas fighting polar bears, penis size surveys, and more.
Before we get to the Funbag, a quick reminder that the next reading for The Postmortal will be at 7 p.m. at Book Court in Brooklyn on Monday. Will Leitch will also be there as a special guest, and we can all tease him about eating raisins and fingerblasting himself to pictures of Ricky Ankiel. So join in the fun if you're around. It'll be hipsterriffic. Now, your letters.
Chris:
So there's this Washington Post story going around about a bat-shit German guy who killed his geezer wife and claims to be an Iraqi general. Thing is, I've SEEN this guy around Georgetown for years — I've walked past him at least a few times.

It got me thinking — how many times have I crossed paths with certifiable killers? It has to be a surprisingly high number, right?
It depends on where you live. If you live somewhere with a high murder rate... SURPRISE! You may have shaken hands with Monster Kody Scott. But if you grew up on the mean streets of Wayzata, Minn., as I did, that number is probably negligible (and I don't count military personnel, I'm talking people who have maliciously killed others). Since the year I was born (1976), there have been roughly 20,000 murders in the US per year, which would make for 680,000 murders over the course of my lifetime. That's a few hundred thousand murderers to potentially stumble across, so I guess you might shake hands with one of two in your travels. I went to school with a murderer.
In July, Mr. Ko was convicted of second-degree murder for killing Hyseung Lynda Hong, 26, in her Manhattan apartment in March 1998, slashing her throat in what prosecutors described as an attack intended to impress a jealous girlfriend.
I think I might have said hi to him at one point or another. I can't really remember. It's not a terribly comforting thought.
BJP:
One stat breakdown that you never see and (presumably) never will is dick size. Think about it for a minute. As an example, we don't know the breakdown of men with prostate cancer by dick size. Maybe the probability of a person with a 2-inch or smaller dick getting cancer is less than 10% but once you get into the 8-inch or larger category it is 85%. Maybe people with dick sizes between 6 and 8 inches have a higher likelihood of being psychopathic killers than all other sizes. We just don't know but maybe we should! Keeping track of dick size may save lives!!

Worth considering, no?
Indeed. Doing a sociological study of men by penis size could help destroy certain myths. For example, what if we found out that the majority of Corvette owners have HUGE dicks? Maybe they aren't overcompensating for anything. In fact, maybe they bought a sports car specifically because they have a huge dick but can't say anything about it in polite company? That would destroy conventional wisdom. You could do an entire dickonomic study on whether or not men with big dicks are smarter, better educated, wealthier, or blacker. You could also do a racial breakdown to see if what they say about Asian men having small penises is true (And I bet it is!). You could study mating habits by penis size. You could do a geographical study of penis sizes. What is the most well-endowed city in the US? Is it East St. Louis? I bet it's East St. Louis. Do men with big penises eat more tacos? WHY? It's all in play.
BJ:
Does it bother you at all that after 11am comes 12pm and after 11pm comes 12am? I have always thought this was retarded
So then, under your model, 12PM would actually be 12AM, and the PMs wouldn't start until an hour later with 1PM, yes? That does make sense. But if I tried to actually adjust to that, my head would fall off of my body. So the old way remains.
Jake:
Say you were given command of an NFL team. You are allowed to assemble your offense from any players you want in the whole league—even guys already signed by other teams. But because Goodell is a prick, you aren't allowed to have a QB. That includes guys like Brad Smith and Josh Cribbs who have played the position in college.

You are still allowed to throw the ball, but obviously that is a very limited option without a QB. You are able to assemble an elite team of tailbacks and run-blockers, but opposing teams are able to prepare for your team without having to worry about the passing game. How many games do you think this team could win? I think you could win four or five games.
Well, you'd still have a literal QB position, someone to take snaps. It's just that you'd be using a back or a wideout to do the job, which means you'd basically have an All-Pro football team run by an extremely inexperienced but presumably athletic quarterback (the 2002 Steelers, basically). If you had a Top 5 defense on the other side of the ball, you could probably get seven or eight wins out of it, or even more, depending on the schedule, because even bad QBs can make decent plays against shitty defenses (especially with all the rules against hitting the passer now). If Percy Harvin were your QB, you'd have a whole season to get him acclimated to the position permanently, and to install whatever rollouts and simple passes you think suit him best.
I'm the kind of person who gets extremely excited whenever a running back or wideout throws the ball, which makes no sense because why should I be excited about someone throwing the ball who clearly isn't as well-suited for it as the QB? I also get really fucking jazzed if a team's QBs all get injured in one game and the specter of using a skill player as an emergency QB becomes a real threat. When that becomes a possibility, I openly root for the last QB standing to get his knee blown to shit. Same with nonpitchers being forced to pitch in games, especially if it's Jose Canseco doing the pitching. Sports novelties are AWESOME.
Greg:
Hanging up on somebody used to be the equivalent of giving them the finger then disappearing in a cloud of smoke, leaving them alone with their rage and a useless phone in their hand. Nowadays, everyone knows all too well that cell phones - and iPhones in particular - drop calls all the time, so if you angrily hang up on somebody, odds are this person will assume the call got dropped and call you right back, completely missing the message you were trying to convey. The only opportunity for a true old school hang up is when both parties know full well that they are both using landlines - as someone who doesn't have a house phone, that means work calls only, and I don't have nearly the clout required to survive such a move at work. I look forward to the day when we come full circle and all have very reliable satellite phones, leaving no doubt that yes, I just hung up on you.
Well now, wait a second. I still think you can make it perfectly clear to the other person that you ended the call on purpose. If you ramp up to your hangup with, "You know what? FUCK YOU. This conversation's over, asshole," and then press END, the person on the other line would have to be a real idiot to be like, "Whoa hey! I think he lost reception!" The real crime of cell phones is that you aren't allowed the physical gratification of slamming the phone down. You can't be like, FUCK YOU, and then bash the receiver into the phone base. Now you say FUCK YOU and then thumb around for the end button for two seconds before pressing it angrily, which isn't anywhere near as fun.
Ever have a friend who ends calls too abruptly? My best friend does this all the time. We'll be talking and the conversation will end without me prepared for it at all.
HIM: So you're gonna be there?
ME: Yeah, I'll be there around eight.
HIM: Got it. (HANGS UP)
Whoa hey, I wasn't ready for that. You have to prepare me for the fact that you're about to hang up. There needs to be a "see ya" or a "good bye." You can't just cut me off like that. I HAVE FEELINGS, JEREMY.
By the way, I was in the store yesterday and there was a woman in the produce aisle screaming at someone in her phone. Real screaming. Just reaming the shit out of whoever was on the other end of the line. And I shouldn't point out that she was black, but MY GOD SHE WAS REAL BLACK AND REAL LOUD. And she was all like, "No! You are NOT listening to me, no you are NOT!" And I was like, "How could he not be listening to you? The whole fucking world can hear you." And she kept at it for minutes at a time while everyone else just stared and felt awkward and horrible. And I kept wondering why the person on the other end didn't just hang up. Who sticks around for that kind of lambasting? I would have hung up after three seconds. She was already yelling at me at top volume. What was she gonna do, yell more?
One other thing: I saw a guy in town today with an iPhone in his pocket and, extending out from the iPhone, a blue old school phone handset, so he's sitting in the middle of town talking on a handset going into his pocket. What a fucking asshat. I hope he got hit by a van.
Ted:
Carl Monday goes to my gym. I see him there on average once a week. Tuesday was "Shoulders Day" for Cleveland's premier investigative reporter. He also is the type of person that shamelessly fills up an entire water bottle with multiple people and mounting frustration waiting behind him. Each time I see him, I am torn between being nervous or being able to rest assured about my gym choice. On the one hand, I should feel confident because Carl Monday most definitely did his homework on choosing a place that could potentially be swarming with staph infections, steroids, bacchanalia in the men's showers, etc. Furthermore, I would assume management would recognize who he is and the potential embarrassment a douche like him could cause, forcing the club to maintain a high standard. On the other hand, I constantly think that he may be undercover and performing a year plus long investigation into some seedy actions or unsanitary conditions and that I am destined to get a staph infection. Either way, I need to join a new gym, right?
I think you do. Because what if Carl is always poking around the locker room to see if you're masturbating? What if he set up a camera in the steam room to catch you jacking off even though no one else is around and it's clearly off-peak hours? I wouldn't want some narc like that ruining my good time.