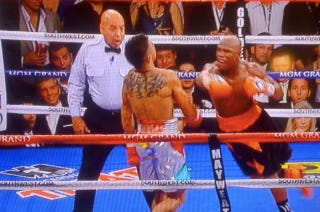 Your morning roundup for Sept. 18, the day we mourn the Marble Rye Lady. Got any stories or photos for us? Tip your editors.
What we watched: People saw what they wanted to see from last night's Floyd Mayweather vs. Victor Ortiz fight. "An orchestrated WWF main event." "I'm sorry, I think that was cheap." "Can't hit a man when he's trying to hug you!" "Protect yourself at all times. It's not a hugging contest." "Fixed." Here's what I saw:
Three rounds that spoke to a veteran relying on technical prowess against an upstart who looked like he might just find a way to bulldog his way inside enough to take down the gifted braggart. Translation: No matter what they say, Ortiz had more than a puncher's chance.
And then came Round 4.
With 19 seconds left, Ortiz caught Mayweather with a left that sent him backpedaling and protecting his head. A right grazed. The next left sneaked through Mayweather's gloves. Face. Flush. Fear.
Two shots off the gloves. Miss with a right to the side. Mayweather got his hands on Ortiz's shoulders, quickly not seeming dazed by the frenzy. He ducked, just barely, out of the way of a right cross. The follow-up left didn't connect sufficiently.
As Mayweather tried tying his opponent up — 14 seconds remaining in the round — his foe knee squat/semi-jumped with ferocity. Top of head to chin and mouth. Mayweather pushed him off. Referee Joe Cortez called a timeout. The youngster immediately approached, glove palms upturned, apologetically. The veteran was pissed. The youngster draped his arms around his shoulders, planted a kiss on his right cheek and was led away.
Ortiz was penalized a point.
"Don't be doing that," the youngster was told.
Then, Mayweather and Ortiz stood above the Tecate ad in the middle of the ring. Cortez looked off to the ringside referees, presumably those keeping time. They'd only need to keep it for another two seconds. Ortiz went in for another hug. Mayweather seemed to be attempting to touch gloves. Conspiracy theorists saw something spoken from elder to youngster. I'm not convinced they're wrong.
Cortez might have given the order to commence fighting. But he might not have.
Ortiz took about a half step back, his gloves down at his sides. Cortez was still looking off to ringside. Mayweather threw a shock of a left hook that caught the fuck out of Ortiz's dome. His legs went backward, lamely, just enough strength to support 160 pounds upright.
Then, a nasty, anger-filled straight right to the face thrown with such pace that Mayweather's right leg was at a 45 degree angle in the air behind the left. And Ortiz just fucking crumbled in the corner opposite where the headbutt occurred. His knees came more than halfway up to his head. The ringside referee launched from his seat with two fingers in the air.
Mayweather trotted away in the opposite direction. Bouncing. Pogo-stick high. Looking back at the dude who just headbutted him 22 real-time seconds earlier.
Jim Lampley: "Protect yourself at all times."
Larry Merchant: "Ortiz is apologizing, and Mayweather was punching."
Lampley: "This isn't going to win him any more fans, but it was legal. It. Was. Legal."
The camera cuts to Mayweather. His entourage is hooting and hollering and hyping.
The camera cuts to Ortiz. His entourage and ring officials are making sure his eyelashes aren't bleeding. He has one of those dazed "I know where I am but I don't really know where I am" expressions. But it's not as dazed as he should be after taking two synapse twisters to the face.
Merchant: "An outstanding performance by Mayweather. He knew the flaws in Ortiz. He seized on them. He took some of Ortiz's good shots. For once, we can all say he was as exciting inside the ring as he was outside the ring."
Mayweather landed 73 of 208 punches thrown; Ortiz landed 26 of 148. It did not feel that lopsided.
The bells sounds four times.
"Ladies and gentlemen," says Michael Buffer, "from the MGM Grand, the official time: two minutes, 59 seconds of round number four, the winner by knockout victory and new WBC welterweight champion of the world, Floyd 'Money' Mayweather."
Mayweather thanks God. The crowd boos.
Mayweather talks about dirty shots. Merchant asks as pertinent of questions that one can ask when the cocktail waitress knows to refresh without being asked to do so.
Mayweather thinks he's hatin', and responds accordingly. "Protect yourself at all times," he says. "If he wants a rematch, he can get a rematch." Then he notes that Merchant doesn't know shit about boxing, and that HBO should send someone new to interview him. Merchant says he'd kick his ass if he was 50 years younger, and then laughs the laugh of "Dear Lawd, what did I just say?"