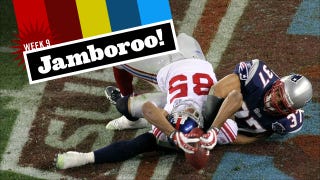 Drew Magary's Thursday Afternoon NFL Dick Joke Jamboroo runs every Thursday during the NFL season. Buy Drew's new book, The Postmortal, through here. Find more of his stuff at his Twitter feed.
The Giants play the Patriots this week for the first time since the 2007 Super Bowl, and that occasion gave Bostonwoodland's Bill Simmons a moment to once more remind you that the Giants victory was the byproduct of sheer chance and really shouldn't count:
Eli's résumé since January 2008: 34-20 (regular season), 4-1 (playoffs), one Super Bowl ring, two 4,000-yard passing seasons, 96 TDs, 57 picks, 90+ QB rating, played every game, part of the luckiest play in football history (I'm not even going there)...
Never mind that you DID just go there, let's focus instead on the idea that the Helmet Catch (nee Giant Snatch) was a lucky play. Here is the definition of luck from Google's dictionary, which I think we can all agree is the last word in lexicography (I am a strict Internet constructionist):
Success or failure apparently brought by chance rather than through one's own actions.
Do take a moment to note the last part of that definition, and then explain to me how David Tyree catching the ball against his own head was NOT a success brought on by his own actions. If Tyree didn't catch the ball, WHO THE FUCK DID?! If Tyree's catch is "lucky," then what other fantastic NFL plays must be considered fluky? Last week, Laurent Robinson made a fantastic juggling catch that was just barely out of bounds against the Eagles. Since Robinson isn't a marquee wideout, is it mere luck that he was able to catch the ball on the third carom? No. That's fucking stupid.
I'm well aware that David Tyree was a shitty NFL player. NO ONE DENIES THIS. But his catch wasn't luck. Now, if he had dropped the ball, and the refs had called it a catch, and then failed to overturn the ruling upon replay? THAT would be lucky, because then Tyree's achievement would have been the direct result of someone else's actions, and not his own. Does Tyree make that catch more than 1 time out of 150 chances? Probably not. But that doesn't matter because he fucking caught it. A fucking magic fairy didn't fly down and place the ball in Tyree's hands. He caught it himself.
Tyree is no luckier than any other unheralded player who made a big play in a big moment, like Larry Brown in Super Bowl XXX, or any career .200 hitter who manages to hit a home run in the World Series. Those big moments from minor players are part of what makes sports so compelling. Bob Costas probably creamed his very small pleated Ken doll chinos when he saw Mark Lemke bat over .400 in the 1991 World Series (Lemke was a career .246 hitter).
Luck is a factor in the success of any athlete. No man is ever truly a self-made man. Sheer chance is the reason any of us were born at all. It could have been some other loser sperm that rammed into your mom's ovum. In order to make the Helmet Catch, Tyree had to be born physically gifted enough to play football, to be noticed by scouts who encouraged the Giants to sign him, and be a member of a team that managed to get to the Super Bowl without a particularly large contribution from him. And I suppose it's good fortune for Tyree that Eli Manning elected to throw HIM the ball at that particular moment. All of that is luck, but to use it to discount what Tyree did once the ball was thrown to him is idiotic. That catch was, in fact, the LEAST lucky part of that particular moment.
I remember Simmons once did a podcast with Mike Lombardi after Pittsburgh won the 2008 Super Bowl, and his question was if the best team in the NFL had won the Super Bowl. I find this kind of question infuriating. It implies that the best team is always set in stone and that the random nature of playoff results are somehow just a cosmic fluke and nothing more meaningful. The Rams beat the Saints last Sunday. Are they really a "better" team than New Orleans? Who fucking cares? The Rams stomped on their nuts, and that's the only result that ends up truly mattering. It's why you stage the games at all. And if the "better" team doesn't win, that doesn't make it unlucky or unfair. Take your loss like a man don't be a fucking gash about it. The Giant Snatch wasn't luck. It was goddamn glorious. I wish the Patriots lost that way every fucking week.
The Games
All games in the Jamboroo are evaluated for sheer watchability on a scale of 1 to 5 Throwgasms.
Five Throwgasms
Giants at Patriots: Did you hear Jim Nantz and Phil Simms call the Steelers/Pats game? I've never seen them so heartbroken. When Belichick didn't challenge the Gronkowski catch at the front of the end zone, I half expected Simms to run down to the field and throw the red flag for him. HOW COULD THE PEETRIOTS HAVE NOT CHALLENGED THAT PLAY, JEEM? Sometime soon, Nantz is going to wear a Brady jersey and rub his nipples for the entire telecast.
Bears at Eagles: Here's a video of Jason Kelce snapping the ball directly into his own ass. Fun for all!
Ravens at Steelers
Four Throwgasms
Packers at Chargers: I was in San Diego during the summer and I found myself having to shop for a dress shirt. I am an extraordinarily cheap human being, which means I'm never willing to pay more than $20 for any pair of shoes, pants, or a dress shirt. I have completely unreasonable expectations for what $20 ought to buy me on the open fashion market. I went from store to store and every shirt cost forty dollars, and every time I looked at the label I grimaced with disgust, like a German restaurant patron who sees an automatic 18% gratuity added. Forty dollars? For a fucking Abercrombie shirt? NEIN!!!
By the way, I have no good sense of what a garment will cost before I flip the price tag around. It's kind of thrilling, frankly. You see a nice shirt in a department store and it can be anywhere from $60 to $3,500. What's it gonna be? YOU NEVER KNOW.
Also, I hope Philip Rivers dies in a boating accident. Nothing personal against the man, I just wish awful things upon him and his family.
Three Throwgasms
Bucs at Saints: It's fall, which means that I am currently unable to maintain a consistent core body temperature. I put on a sweater in the house, I get too hot, I take it off, I get too cold, I put it back on. REPEAT FOREVER. Same with socks. "Say, my dogs sure are barkin'. Better take these socks off. OH FUCK BARE FEET ON AN ICE COLD HARDWOOD FLOOR! SOCKS ARE TO REPORT BACK TO FEET AT ONCE!" I really wish I could stick with the layers that I have. I'm the world's worst clothing flip-flopper.
Jets at Bills: I eat a lot of chicken, Dark meat, specifically, because white meat is for assholes. And when you eat a chicken thigh, there's often a bit of the chicken's back attached to the piece. I often find myself digging into the back and eating the little organ bits that are tucked away in there. Can anyone tell me what those organs are? (NOTE: NOT the chicken oyster. I know what the goddamn chicken oyster is.) Are those the chicken ovaries? I probably shouldn't eat them. They may be full of mercury. All I know is that they're DELICIOUS. I salute you, mysterious chicken organs.
Bengals at Titans: Poor Erin Andrews. Imagine going through life with people openly masturbating in front of you left and right. Can't be a pretty sight. And who's gonna sympathize with her? Her friends? Please. No ladyfriend is gonna want to hear her friend be like, "Ugh, I'm so pretty that men can't stop jerking off in front of me!" Awwww, poor you for being born too perfect! Here's a #humblebrag hashtag needlework throw pillow I made just for you!
Two Throwgasms
Broncos at Raiders: I would like an explanation from ESPN's web people as to why they decided to delete the "X > Tebow" comments from their website. Most of those comments didn't contain foul language, and many of the jokes were fairly mild. Meanwhile, they happily tolerate all kinds of idiocy over on other articles. Like so: