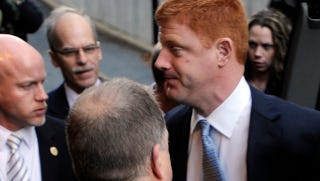 Penn State assistant coach Mike McQueary testified this morning that he had not used the specific words "sodomy," "rape," or "anal sex" when he first told Penn State athletic director Tim Curley and then-vice president Gary Schultz what he had seen Jerry Sandusky doing to a boy in the football showers on March 1, 2002. But at today's preliminary hearing on the charges against Curley and Schultz, according to an account of McQueary's testimony written by Sara Ganim of the Patriot-News of Harrisburg, McQueary made it clear he had told those officials that what he saw was "severe":
"I would have said that Jerry was in there in very close proximity to a boy with his arms wrapped around him. I said I heard slapping sounds. I described it was extremely sexual and that some kind of intercourse was going on. ... There's no question in my mind that I conveyed to them that I saw Jerry in the showers and that it was severe acts and that it was wrong and over the line."
McQueary's previous testimony to the grand jury investigating Sandusky led to the charges against Curley and Schultz, for perjury and failure to report abuse. McQueary's testimony this morning seemed consistent with what he had told the grand jury, based on the summary of the grand jury's findings that has been made public.