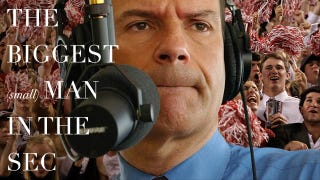 The Southeastern Conference (SEC) is the brawniest thing in college football right now, and a scrawny man, Paul Finebaum, sits atop it.
Finebaum is the host of The Paul Finebaum Radio Network, a daily show that has won the men's 25-54 demographic in Alabama for five years running and which serves to overturn the rock and reveal the writhing passions of the SEC. Finebaum, a 56-year-old with a bald, turtle-like head and a Memphis accent, doesn't do much talking. When he does talk, he's monotone, sly, and deadpan. He is there to let his callers rant and spew.
A decade ago, Finebaum was a local show in Birmingham. Then it went regional—you can hear it everywhere in Alabama, and on stations in Mississippi, Tennessee, Arkansas, Florida, South Carolina, and Georgia—and now it's national, via Sirius XM.
"I'm surprised how well Finebaum seems to have translated nationally," says Jeremy Henderson, editor of the War Eagle Reader, "because the stuff he's talking about is mostly Auburn and Alabama fans screaming at each other."
But that's what college football is now. Tonight, No. 2 Alabama plays No. 1 LSU in the BCS championship game, a rematch of their regular-season SEC West contest. The winner will be the sixth straight national champion from the SEC; the loser—thanks to the intraconference matchup—will be the first SEC team to to have lost in a BCS title game. Against other conferences, the league is 7-0.
The SEC has more than $3 billion in television rights fees coming over the next 15 years, the biggest deal in college sports. Where other conferences are withering away in the realignment frenzy, the SEC keeps growing stronger. The South rules the sport.
It's a streak of regional dominance unrivaled since the late 1800s, when Harvard, Princeton, and Yale traded titles for 30 years. Then, in the 1920s, the South—still resentful about the Civil War and Reconstruction—decided to apply its sectional aggression to the sport, challenging the North and West for supremacy.
"That legacy, that bitterness lives on," said Andy Doyle, a professor of sports history at Winthrop University in South Carolina. "And it certainly lived on into the formation of football."
In 1926, Alabama beat Washington in the Rose Bowl. The Crimson Tide returned as heroes, meeting adoring crowds at every train stop, according to football historian Michael Oriard. In 1935, the SEC began offering athletic scholarships. The Big Ten and Pacific Coast accused the conference of outright professionalism—sound familiar?
The mythmaking was self-conscious. Hardscrabble Southerners like Alabama defensive end Bear Bryant played "more desperately and ferociously," Oriard said, till the Yankee sport became identified with Southern pride.
In the '60s, Southern columnists crowed about how their all-white teams could still beat integrated Northern ones. And for a while they did. Once they couldn't, the SEC finally yielded to history and desegregated—if slowly; Ole Miss didn't have its first black player till 1972.
But the regional jingoism survived. SEC enthusiasm is—along with a certain bourbon-drinking literary posture—one of the last socially acceptable forms of Confederate exceptionalism.
And Finebaum gives voice to its fullest enthusiasm. Even Texas isn't Southern enough. As a Heisman Trophy voter, Finebaum left Baylor quarterback and eventual winner Robert Griffin III off his ballot because, as he tweeted, "Baylor would finish 6-6 in SEC West".
"SEC defenses would have eaten him alive," Finebaum added. "Haters get a clue."
***
Finebaum, like the college football itself, has a tale of regional migration. He was born in Tennessee to parents newly arrived from New York. As he moved even deeper into Dixie, he kept rhetorically evoking his Northern roots: "I'm the son of New Yorkers," he said over the phone. "And here I am fighting some battle for the South."
He was recounting his October appearance on ESPN's Outside the Lines, in which he sparred with The Nation's Dave Zirin when talking about Hank Williams Jr.'s remarks about President Obama. He said he covered his eyes at points when watching the episode on his DVR.
"That said, I didn't have to buy a beer in Alabama for a week, and I'm sure I got free tickets to every Lynyrd Skynyrd, Allman Brothers, and Marshall Tucker reunion tour."
It was a textbook Finebaum maneuver, disclaiming the Southernness he'd shown on national television, while explaining that Southerners had his back anyway, before poking fun at Southern icons. With each clause came a new barb, directed at another side, till it was impossible to tell which side he was personally taking. Then he told me Williams had called to thank him, too.
"Life can't be all bad when Bocephus is your friend," Finebaum said. "By the way, I thought his comments on Obama were ridiculous."
The OTL appearance with Zirin was one of Finebaum's multiple appearances on ESPN over the past few months. His radio show served as a framing device for Roll Tide/War Eagle, the ESPN Films documentary on the Alabama-Auburn rivalry, which aired before the Iron Bowl in November.
Finebaum is the face and—in his understated way—voice of the ascendant SEC tribalism. Bryan Curtis explained it well at Grantland: Fans root for the conference as a whole, in addition to boosting their own teams. They chant "S! E! C!" when Florida vanquishes Ohio State, when Auburn defeats Oregon. They like seeing SEC brethren, even their rivals, beat down on other squads. The SEC-on-SEC action in the championship game will invariably let down some SEC fans, save the Auburn types who want to see Alabama lose at all costs, because there won't be any foil for the conference.