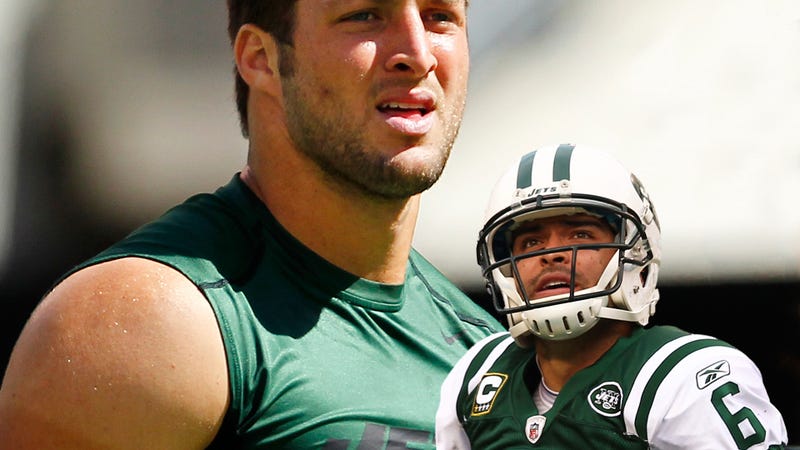 It's finally here. Sunday football. Wednesday was cool and all, but this is the day that really counts. For the remainder of the day you will watch football and only football and it will be awesome. Until your team, obviously playing a 1 P.M. game, loses and ruins the entire day for you. But you've got a whole three hours before that happens, so let's get started with a guide to the first round of games.
Buffalo Bills at New York Jets (CBS): Marv Albert and Rich Gannon will call this one. That tells you all you need to know about the state of the media darling New York Jets. This game is beneath even the usual Gumbel-Dierdorf J.V. squad. God, Dierdorf is a mess. Anyway, there's really only one way this game can play out. A low scoring, close game late until Sanchez throws a soul-crusher of an interception and Tebow wins the game as time expires with a goal line rush. Might as well get the Tebow stuff out of the way early.
New England at Tennessee (CBS): I hate to harp on the announcers, but, why in the world did CBS send their A-team of Nantz and Simms to this game? I mean, other than they have the most experience verbally fellating the Patriots. This is totally going to be one of those one-sided games that makes you think for a nanosecond "I was excited about this?"
Indianapolis at Chicago (CBS): Andrew Luck, whose voice sounds as though it is perpetually altered to protect his identity, gets his first start as a professional. Who cares. We've got Jay Cutler and Brandon Marshall on the other side. A guy who looks like he could not give the slightest of fucks about anything throwing to a guy who could internally combust at the drop of a hat. This is where Nantz and Simms need to be.