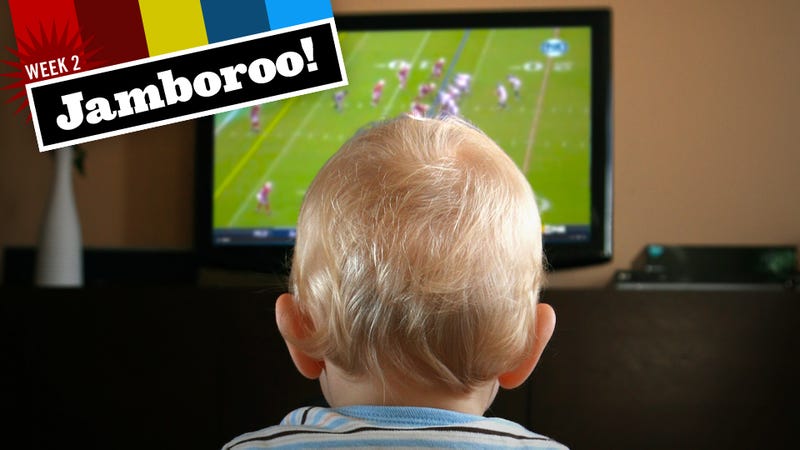 Drew Magary's Thursday Afternoon NFL Dick Joke Jamboroo runs every Thursday during the NFL season.
I have three children and it's important that each of these three children learn to like watching football, because A) It will allow us to spend more quality time together as a family and all that bullshit, and B) It means they won't piss and moan if I decide to watch football instead of some asshole kid show they want to watch. But there's a problem in getting young people to like football, and that is that the game is a bitch to explain.
I don't mean this as a complaint. It takes a while to figure out what's going on in a football game but, once you've got the basics down, watching becomes intensely rewarding. Especially when one guy hits another guy in the face real good.
The problem is getting to that point, teaching your protege enough of the game that they don't feel lost every time it comes on. I remember being baffled by football as a child. I didn't really have a firm grasp of what was going on until I was about nine or ten, but that may have been because no one in my family cared for the sport and I had to figure it out just by watching it. I think about that any time I try to watch a game with my kids. I remember exactly what it felt like to not know what the hell "3rd and 8" meant. There's a certain joy in solving that puzzle. You have to want to understand it enough to stick with it.
Drew Magary writes for Deadspin and Gawker. He's also a correspondent for GQ. Follow him on Twitter @drewmagary and email him at drew@deadspin.com.
I still think that's one of the reasons that soccer remains the most popular sport on Earth. Not only is it a relatively inexpensive sport to play, but explaining it to a child takes a matter of seconds. "Kick it in there. Whoever does it the most wins." That's it. That's all you need for soccer to make sense. Obviously, as you become more familiar with the game, its subtleties and tactics are revealed to you. There's more to soccer than just scoring goals, which is good because that shit doesn't happen often. In time, your kids figure out why grown Italian men act like complete pussies on a soccer pitch. But the point of entry is easy.
Football, on the other hand, almost goes out of its way to keep you at arm's length. You can't watch football for the first time and know, intuitively, what the hell is going on. The announcers don't pause to explain every little thing to you, which is good because that would be really fucking annoying. But even the referees don't know the rules to the game anymore. It can all be rather intimidating, and it made me wonder what the hardest major sports are to explain to kids and other neophytes. Obviously, it's easier to explain a lot of these sports simply by playing them. But if you're just watching on TV, here are the rankings: