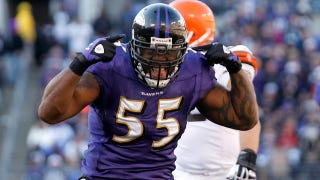 The Ravens are known for their defense. In most every game Baltimore plays—and this goes double when they play the Steelers—color commentators wax about "hard-nosed football" and "defensive mentality" and "slobber-knockers."
But this year the Ravens' defense hasn't been the usual Ravens' defense. For the season, Baltimore ranks 11th in points allowed per game, 26th in yards allowed per game, and Football Outsiders ranks them 17th in DVOA.
Baltimore can blame Terrell Suggs for that, at least in part. Suggs, the Ravens' best pass rusher and the reigning NFL Defensive Player of the Year, tore his Achilles tendon playing basketball in April. He had surgery in May and was expected to miss this season.