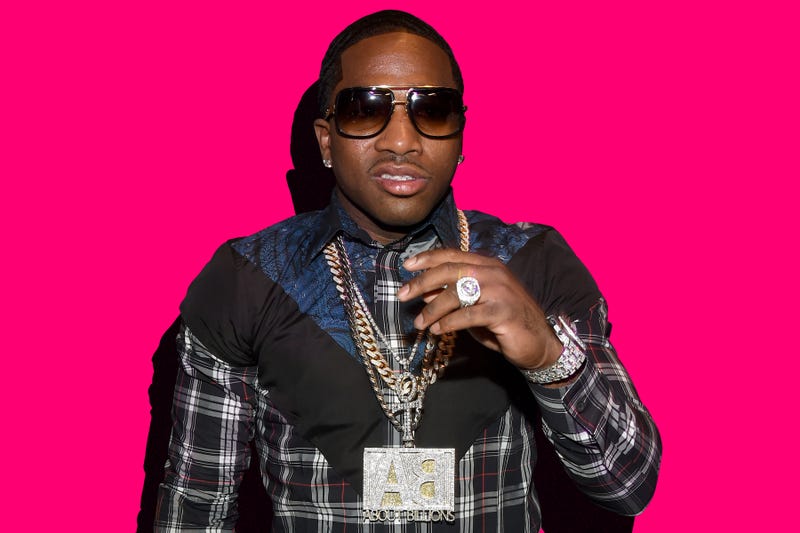 Adrien Broner is a dick.

This won't come as hold-the-presses news to anybody who follows either the fight game or the celebrity crime blotter. In the last few weeks alone, the dickishness of the four-time, four-weight-class world champion has gotten lots of ink. Some of his alleged dickishness is serious. Police in his hometown, Cincinnati, issued warrants for his arrest on felonious assault and aggravated robbery charges last week, and a related civil suit filed against Broner by alleged victim Christopher Carson asserts that Broner beat up and robbed Carson outside a bowling alley in January after the boxer lost thousands of dollars in bets to him earlier in the evening.
On a less felonious but still dickish note, video recently surfaced of Broner attempting to humiliate a Walmart cashier by making it rain in a checkout lane.
News on these displays of dickishness came right around the time I got my own minor but up-close-and-personal view of Broner-as-dick. It came earlier this month, when I showed up about five minutes early for an interview with Broner at the Bald Eagle Recreation Center, the Washington, D.C., gym where he's been training for Friday's fight against Ashley Theophane, to be broadcast on Spike. Not to compare myself to the beaten bowler or the embarrassed cashier, but I can now testify that reading about Broner's dickishness and being on the business end of it are about as far apart as his career circa the summer of 2013—when he was an undefeated welterweight champ and The Ring's #6 pound-for-pound fighter in the world—is from his career now that he has two losses on the books and is scrambling to find a basic cable channel willing to show his fights.
His professional decline notwithstanding, Broner still carries himself like a pay-per-view headliner. The interview had been in the works for more than a week; before I showed up, I was told by PR people that Broner had approved everything, and folks with his camp who were at the gym when I arrived told me that Broner knew I'd be coming. But as soon as I said hello to Broner, I learned he was no longer on board.

"No interviews!" Broner announced to seemingly everybody in the busy gym, then quickly walked away. I was left in awe. I hadn't personally witnessed this level of dickish virtuosity from a celebrity since I saw Van Morrison scream maniacally at a roadie and order him off stage during a 2009 show at DAR Constitution Hall during his Astral Weeks tour. After the show, all anybody was talking about was Van the Man's thrilling display of dickishness.
There are far less fascinating places to hang out than a fight club, and I really wanted to see if Broner would give me an encore if I hang around. So I took a seat and wondered how things were going to play out.
About (Rather Less Than) Billions
When I first learned that Broner had set up camp in D.C., I figured that meant he'd changed his stripes, mostly because I knew Broner came to town to train with Barry Hunter, whom I've long admired. Hunter, founder of Headbangers Boxing Club, is best known for grooming Anthony Peterson and his brother, Lamont. I first met the three of them in early 2002, when Hunter's club was just for kids, and was based in the basement of Lincoln Junior High School in D.C.'s Columbia Heights neighborhood. Back then the Petersons, who were in foster care when Hunter taught them how to box, were the best fighters in the club, and for competitive reasons were always paired for workouts. So the teen brothers beat the crap out of each other in a makeshift ring set up in the school's boiler room, with puddles on the floor. Despite the modest facilities, they went on to fine amateur and professional careers—Lamont Peterson, now 34-3-1, is a former IBF world super lightweight titleholder, and Anthony Peterson is now 36-1 and waiting for a shot. (He'll be fighting on the Broner vs. Theophane undercard.) Boxing isn't known as a bastion of loyalty, but the trio stuck together.
And they're not training in the boiler room anymore: To honor Hunter for all his work with kids and reward the Petersons for the renown they brought the local boxing scene, in 2013 the D.C. Department of Recreation built a $5.3 million, 6,600 square-foot fight club for Hunter and the Headbangers on the grounds of the Bald Eagle Recreation Center, which sits on a hill above the Potomac River in the southernmost corner of the city. It's doubtful there's a nicer public training facility for fighters in the country.

I also assumed that Broner would have realized by now that the dick act is best left to winners, and that he isn't one. This is no longer the same guy who was barely into his 20s when he won world titles in the super featherweight and lightweight divisions, and was talked about as a pay-per-view headliner waiting to happen and even name-dropped as a possible successor to Floyd Mayweather, Jr.'s throne. That guy could get away with being a dick.
Broner's peak dickishness came in the run-up to his June 2013 fight against Paulie Malignaggi for the WBA welterweight title. Broner decided he would pump up the fight by boasting about dating a former girlfriend of his opponent, but he wasn't smart enough to keep that conceit funny, and things got ugly fast. He went on radio to do interviews about "banging out Paulie's girl." He made jokes about Malignaggi beating her up to prove he had knockout power. Malignaggi dove into the gutter in response, threatening at one press conference to release "porno tapes" of his ex. By fight night, Broner and Malignaggi were making homophobic rants against each other, and the woman caught in the middle was being asked by the boxing press about whom she'd been beaten by and slept with, and forced to deny faking a pregnancy and talk about an abortion she'd had. If the boxing realm has witnessed a sleazier promotion in recent years, none come to mind.
Broner won the fight by split decision in Barclays Center in Brooklyn, Malignaggi's hometown, but still took the low road after the final bell. In the post-fight interview broadcast by Showtime, Jim Gray asked the winner if he had any regrets about how the PR campaign had gone.
"Negative," Broner told Gray. "I beat Paulie, I left with his belt and his girl."