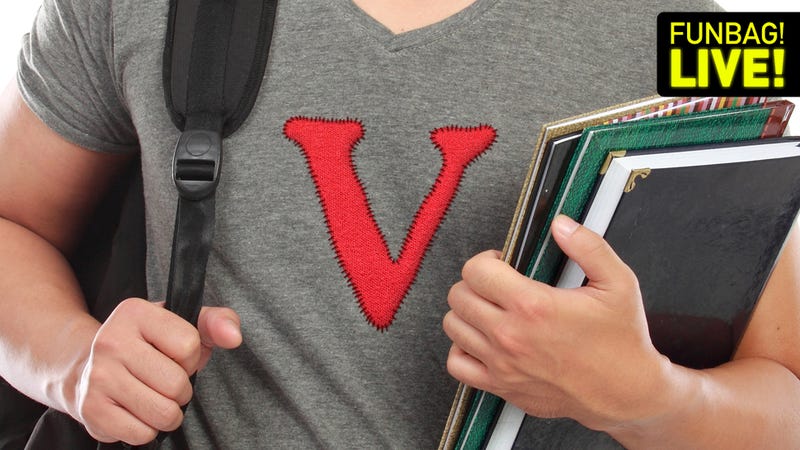 Time for your weekly LIVE edition of the Deadspin Funbag. To submit a question to the live Funbag, you gotta post down in the bowels of the discussion section below. As always, we begin with the question of the week.
Anonymous:
So I'm a high school senior graduating in less than 3 months. I'm an average-looking kid, nothing special but not ugly or really fat or deformed or anything. I'm friends with girls, have a nice group of guys friends, party etc.- not a loser by any stretch of the imagination, but I've never gotten past making out with a girl and feeling her up.

Never taken a bra off, never gotten a hand job, never gotten a beej, and obviously never had sex. I've also never hooked up with a girl who was sober.Does this make me a massive failure in high school? Is this going to cause issues for me entering college next year? I'm going to a big state school next year. Can I handle things without much experience in college or am I gonna get laughed at?
You're not a failure. Sometimes it just doesn't happen for people in high school. And when that happens to a guy, it can fuck with his head. You longer you go without losing it, the more you press, which makes it all that much harder to get laid. Take it from someone who didn't lose his virginity until age 20: It's an AWFUL cycle. Men put so much pressure on themselves to CRUSH vaginas that it destroys them to see everyone else getting laid except for them. You feel like a complete fucking failure. I remember hearing about friends hooking up with girls and being like, "How did you DO that? What is so wrong with me that I can't do likewise?" Every rejection just sends you further and further into the abyss.