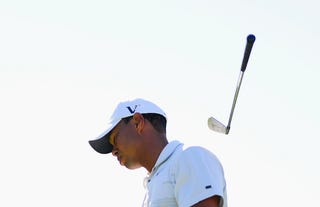 So Tiger Woods backed out of the Masters this week after having a microdiscectomy operation on his spine. And, in accordance with how Tiger Woods conducts business, a gangbang of faceless agents and marketers came together on his behalf and posted a formal statement on his website about the withdrawal, which included this passage:
The goal is for Tiger to resume playing sometime this summer. The repetitive motion from golf can cause this injury, and Woods could have sustained further damage if he had continued to play. There should be no long-lasting effects from the surgery, and it should not impact the longevity of his career.
I have had this exact same kind of surgery three times, and I can tell you that the last sentence in that paragraph is a blatant lie. Even though this is an outpatient procedure (I went home the day of all three of my procedures) and most people are up and moving immediately afterward, there are very obvious long-lasting effects. In a microdiscectomy, doctors remove a portion of the disc that's pressing against the nerve and causing pain, numbness, and discomfort. Once that piece of the disc is gone, the space between the vertebrae shrinks a bit and you are left with less cushioning than before. That's permanent. Long lasting, you might say.