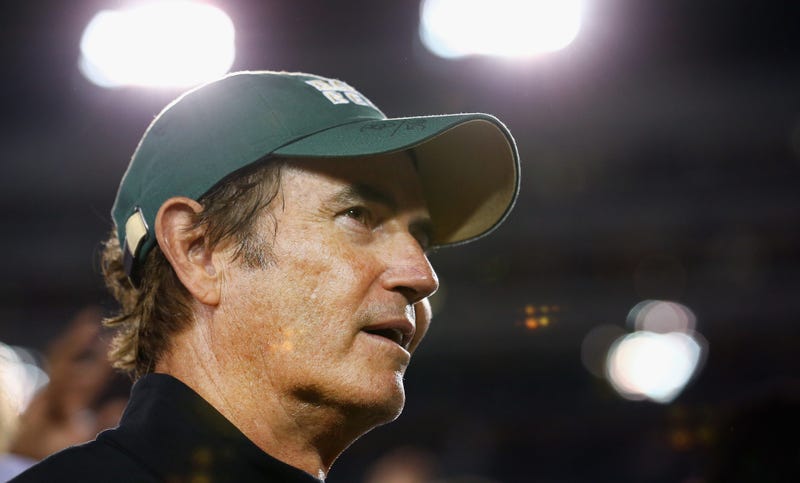 One of the worst-kept secrets in college football is that the president, the athletic director, and the football coach aren't actually in charge. This isn't to absolve them of their responsibilities—they have many, which they love using as selling points when talking to moms about building better men, then forgetting when independent investigators come around. But the final call always rests with something higher—let's call it the donor class—that sends millions dollars an athletic program's way and expects a certain amount of influence in return.
This is why when reports emerged, and wouldn't go away, that Baylor's Board of Regents was considering bringing back football coach Art Briles—suspended "indefinitely with intent to terminate" (but maybe not!) after the university admitted to making life hell for women who reported they were raped, especially when the accusations involved football players—sports reporters knew to call the boosters and the donors. They got answers like this:
Unless they talked to different donors, who were less inclined to be named. Like the one who talked to WFAA:
According to a large Baylor donor, high-level boosters are not pushing for Art Briles to be reinstated, but rather for transparency from the Board of Regents and for the opportunity for Briles to defend himself.
Or the ones who talked to USA Today (emphasis added):
While a small minority of Baylor donors have been pushing behind the scenes to bring back Art Briles as football coach in 2017—effectively giving him a one-year suspension—it is unlikely to result in any action, USA TODAY Sports has learned.
By day's end, even the interim president was confirming that a faction of boosters wants Briles back but "other factors have to be taken into consideration."
Did the regents themselves address the issue? Of course not. The press office for Baylor told me that my questions were for spokeswoman Tonya Lewis. I left her a phone message and emailed her, but never heard back. I also couldn't get in touch with Drayton McLane, Jr., the billionaire whose name is on Baylor's stadium. Over at ESPN, Outside the Lines tried to reach more than 30 of the regents. Four refused to comment; the rest didn't respond.