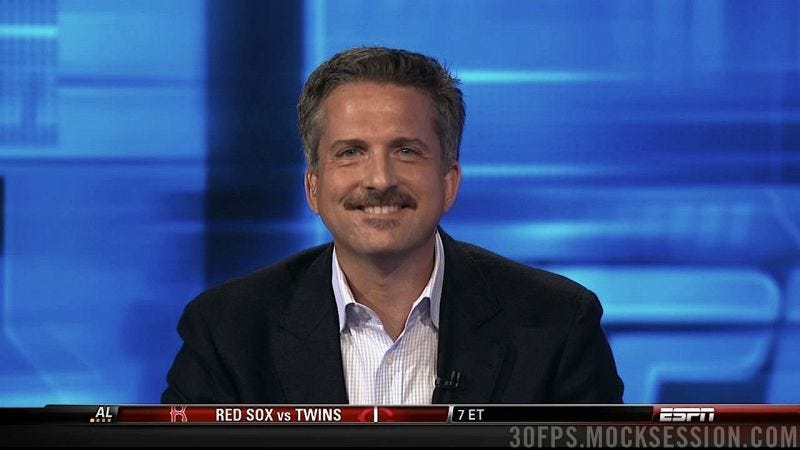 Sports media giant/tall Nilla wafer Bill Simmons is the subject of a short, soft profile in The New York Times today, running under the headline "Bill Simmons Prepares To Stand Up To Sports Incorporated." It begins by describing Simmons as "cool and edgy," moves into a comparison to Bill Maher, and then labels Simmons a "firebrand." This is all nonsense.

As the Times has it, the credit for Simmons's edginess goes to his acrimonious exit from ESPN, which was spurred by Simmons calling NFL commissioner Roger Goodell a "liar" on his podcast before daring someone from ESPN or the NFL to punish him for doing so:
Things started falling apart after Mr. Simmons called Mr. Goodell "a liar" for saying the league had not known what was contained in a damning video of Mr. Rice punching his fiancée unconscious when it initially handed Mr. Rice a light, two-game suspension. (The tape had been leaked to TMZ.) Mr. Simmons followed that by daring ESPN to "Call me and say I'm in trouble." His three-week suspension followed.

Mr. Simmons says he now regrets the dare. But, he said, he was just fulfilling his role as a "disrupter," if an imperfect one. That was what he planned to tell Disney's chief executive, Robert A. Iger — a proponent of disruption — when he went to Mr. Iger's office several months after his suspension.
Simmons claiming that he was being a "disrupter" when he called Roger Goodell a liar is simply revisionist history. For one thing, getting suspended by ESPN, an oafish corporation that routinely makes stupid decisions, is not evidence of one's bad-boy credentials. Calling Simmons a badass for getting slapped on the wrist by ESPN is like calling a kid who gets grounded for saying "shit" a revolutionary.
It's also important to remember that this happened during a time when just about every member of the sports media—including famous shills like Adam Schefter—were casting aspersions on the NFL commissioner. At that point in time, calling Roger Goodell a liar was one of the least-controversial things a person could possibly do. Simmons was suspended not because he made an attack on Goodell, but because he publicly thumbed his nose at his bosses. Throughout his time at ESPN, Simmons was repeatedly reprimanded for taking shots at his own colleagues, not for taking brave and controversial positions.