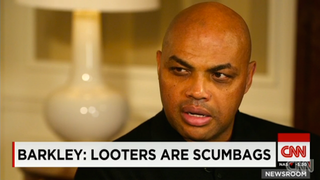 Yesterday was a very bad day, in some small part because NBA legend and Hall of Famer Charles Barkley was on television, and Charles Barkley was talking about something that was not the NBA.
Charles Barkley was on CNN, talking to host Brooke Baldwin in a pre-taped, wide-ranging interview in the wake of the events in Ferguson, Mo. (The very idea of this was surreal—can anyone imagine Steve Kerr being hauled in to discuss what it's like to be white in America?) To recap, 18-year-old Michael Brown was approached by Ferguson police officer Darren Wilson on August 9 and shot dead in broad daylight in front of witnesses, many of whom claimed he perished with his hands up in the universal sign of surrender. On November 24, prosecutor Robert McCulloch announced that Wilson wouldn't even have to go to court.
Yesterday was a very bad day mainly because after months of talking about what can be done to prevent the next Michael Brown from getting shot down—the demilitarization of police, perhaps, though body cameras would be a great start—the United States justice system, well-oiled machine that it is, failed another black man killed by police, and in doing so, did exactly what it was designed to do.