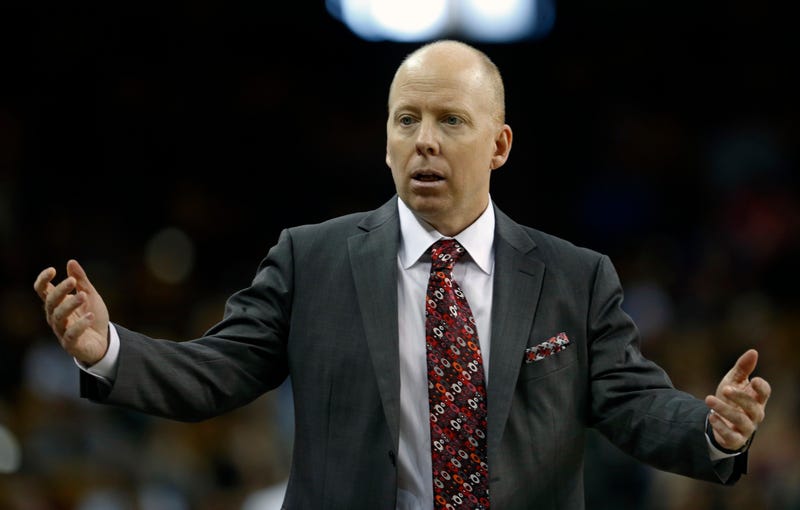 While other coaches are quick to entertain questions regarding potential seeding and region placements in the weeks leading up to the NCAA tournament, Cincinnati head coach Mick Cronin made clear on Wednesday that he's not buying the NCAA's athletes-first schtick.
Cronin responded to a question about the upcoming tournament with a two-minute rant, explaining that seeding for the tournament is not based solely on RPI and strength of schedule. Instead, he chose to call college basketball what it is: a business. He pointed out that ticket sales play a large role in determining who plays and where—you didn't really think it was a coincidence that UNC and Duke (used to) play the first couple rounds in Greensboro and Charlotte every year, did you?
Cronin went on to slam the NCAA for peddling a message that focuses on its supposed desire to serve student-athletes and treat teams fairly come tournament time, claiming this message is consistently superseded by their desire to sell tickets and cash in on what is college sports' biggest event of the year.
A full transcript of Cronin's remarks can be found below:
Cronin: I'm a firm believer in that the NCAA tournament committee and everything is so financially driven that no matter what is said on that Sunday, they're trying to sell tickets. So you may get moved a seed line—it may not be us, but teams could get moved around, from a four to a five, or an eight, nine to a seven, ten to get that pod to sell more tickets. Now, nobody will admit that because it's about the student-athlete, supposedly, but it's a business. If it wasn't a business, we'd be able to have a bus trip in the conference we played in. And that goes for our women's soccer team, my buddy Hilton that coaches our men's team, Neil coaches our women's team. From all the way to soccer, we don't have a bus trip. So don't tell me it's not all about money. That's why you can throw all that stuff out.


Reporter: So you're saying the difference for you guys between being a five and six seed potentially could be selling tickets, location?

Cronin: Oh, that's a fact. And for everybody, I mean that for everybody. That's a fact. That's just business. I've tried to get back into Maui. I don't know if you've been, it's a great place. But we got subbed into Maui late, Louisville pulled out late, so we didn't get a chance to package it for our fans. But we can't get the invite back because we didn't bring any fans. We played in the finals, and had a great game, probably one of the best championship games they've had, an overtime game against Gonzaga that year. But anybody who thinks this isn't a business is wrong, living in a fantasy land. That's why I tell you. You could sit there and think, 'Oh we won this game, we'll move up.' You could move up but end up playing a tougher team because the seedings were wrong. You've got to just worry about coaching your team. The rest of it's a waste of time.
Cronin has spoken out against college sports' financially driven motives before—in 2012 and 2013, Cronin bemoaned the death of the original Big East and the creation of the American Athletic Conference, slamming conference realignment for putting together leagues in which members were spread across the nation.