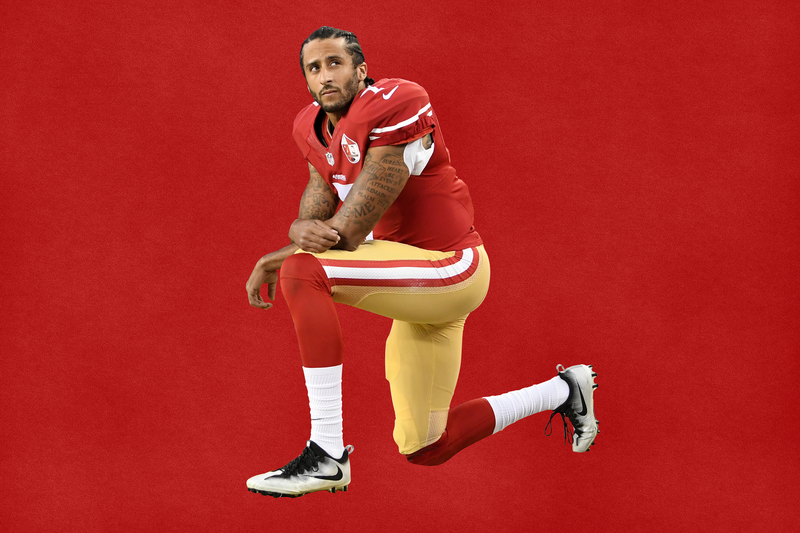 The big news out of the NFL this weekend wasn't about who threw which touchdowns or which teams won which games. Under the thumb of Roger Goodell, the league has been maddeningly good at keeping the world focused on the events that happen in between the lines. Brain injuries, extra-judicial powers, quack doctors—very little of it has been able to slice through the NFL's pomp and circumstance. But this week, that changed.
Colin Kaepernick's protest of the national anthem, enacted to call America's attention to police brutality carried out against black citizens, was not just a preseason concern. This week, Kaepernick was joined in that gesture by players across the league, starting with Broncos linebacker Brandon Marshall on Thursday and ending with a few of his Rams opponents late Monday night. Many of them, emboldened by Kaepernick's resistance, took the protest one step further: Marcus Peters of the Chiefs; Martellus Bennett and Devin McCourty of the Patriots; Jason McCourty, Jurrell Casey, and Wesley Woodyard of the Titans; Kenny Britt and Robert Quinn of the Rams; and Antoine Bethea and Eli Harold of the Niners didn't kneel during the anthem, but instead raised their fists, echoing the iconic images of John Carlos and Tommie Smith at the 1968 Olympics in Mexico City.
The fears—or, more to the point, the hopes—that Kaepernick would be isolated by the NFL machine and expelled from the league as an example of what happens when players speak their minds about social issues now appear to be unfounded. In fact, the opposite has happened. Kaepernick alone could have been cut and blackballed, but with a dozen or so players, many of them stars, behind him, the league has been forced to bend in his direction.