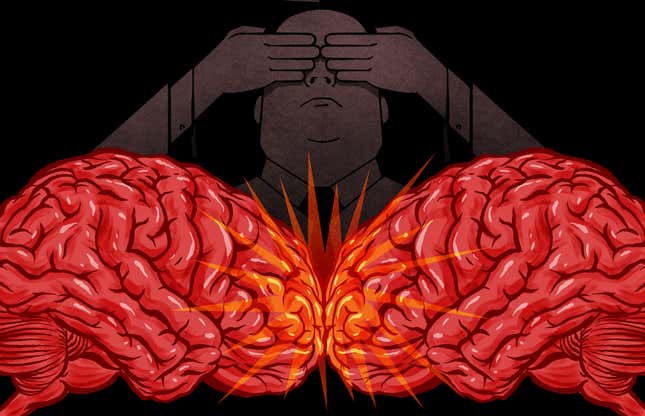 The many ways in which Dr. Elliot Pellman—a Guadalajara-educated rheumatologist with questionable qualifications—helped the NFL downplay the depth and gravity of its concussion crisis are well-documented. He chaired the influential Mild Traumatic Brain Injury Committee despite not having any education, experience, or expertise in brain research and wielding a trumped-up résumé buttressed by lies and misrepresentations. He and other NFL doctors authored a series of 16 papers that in all belittled concussions, saying it was okay to send concussed players back into games and claiming that "players who are concussed and return to the same game have fewer initial signs and symptoms than those removed from play." He once personally sent a concussed Wayne Chrebet back onto the field soon after he had been knocked unconscious by a hit, reportedly telling him, "This is very important for your career." He called the work of Dr. Bennet Omalu, the first doctor to publish data linking football players to CTE, "completely wrong."
How running an NFL team is like running a restaurant | Chef Emeril Lagasse
Surely, you would figure, given its intense concern with optics if not actual player safety, the NFL would have long since rid itself of this man, especially with the premiere of the much-hyped movie Concussion, in which he'll be portrayed by Paul Reiser, nearing. It hasn't.
Though the league isn't eager to discuss it, to this day Pellman remains, depending on whom you ask, the league's medical director, or an administrator, or an adviser on "medical and health matters." His duties, sources told Deadspin, have included working with the league's ATC spotters, a group of certified athletic trainers charged with stopping play if a player might have suffered a concussion. These are the same spotters featured in a recent 60 Minutes special about how the NFL is making progress on concussions and taking them seriously.
The NFL seemingly goes out of its way to avoid publicly acknowledging this. The league keeps Pellman off its website, where a search for his name only turns up a video (that doesn't play) of him conducting medical evaluations at the 2011 combine. A search of news publications shows his work discussed almost exclusively in the past tense since 2013, the same year the NFL dealt with reports from Sports On Earth and ESPN asking exactly why Pellman was still around. Recently, the league has been trotting out Dr. Elizabeth Nabel, a respected cardiologist, and calling her the league's first health and medical adviser.
When asked about Pellman by Deadspin, NFL spokesman Brian McCarthy confirmed that Pellman still works with the league, saying that Pellman "plays a useful administrative role." When asked if that role included serving as the league's medical director, McCarthy eventually conceded that it does. He also confirmed that Pellman has worked with the ATC spotters since the program began four years ago—and continues to do so.

(Pellman himself could not be reached for comment, despite repeated attempts to contact him by phone and email.)
In other words, the NFL says it's taking safety seriously while quietly keeping a man who worked on more than a dozen studies that to varying degrees downplayed concussions not just on the payroll but in a role where he influences what is—and isn't—done about them.
---
That Pellman would have any role not just with the league generally but with the ATC spotters specifically is astonishing, because the program is one of the NFL's most visible sops to critics of its brain-injury policies. The league created the program in reaction to what happened on Dec. 8, 2011, when Pittsburgh Steelers linebacker James Harrison launched himself, leading with the crown of his helmet, into Cleveland Browns quarterback Colt McCoy's face. A woozy-looking McCoy was returned to the game, later said he didn't remember any of it, and days later was diagnosed with a concussion. Per the NFL, the concussion spotters were added two weeks later. In 2012, at a Bloomberg conference, commissioner Roger Goodell said the league had added a program in which a person would be stationed upstairs monitoring the game.
---

Colt McCoy after James Harrison's infamous hit; photo via AP
---
"When they see somebody's had any kind of an injury, but particularly a head injury," Goodell said, "we want to make sure that individual gets evaluated."

An ATC is a certified athletic trainer. In this context, the league says, their job is to "observe play on the field and monitor the broadcast feed of that game to identify players who may potentially be injured on a play, with an emphasis on concussions and other head and neck injuries."
If the ATC spotter observes a play that may have resulted in a concussion or injury on the field, he or she will call that team's bench area to speak with a credentialed team physician or the head athletic trainer to relay the details of the potential injury he or she observed. The spotter will confirm the player's jersey number and the situation in which the injury may have occurred.
These spotters gained considerable power after this past February's Super Bowl, in which New England Patriots wide receiver Julian Edelman caught a pass, took a vicious helmet-to-helmet hit, popped up and then, moments later, stumbled to the ground without any medical staff coming into to the field to examine him. The following month, at the owners' meetings, the league adopted a resolution that gave ATC spotters the power to actually stop games. From the Boston Globe:

According to the language of the rule, "Upon being called by the ATC Spotter, the side judge will immediately stop the game, go to the player in question, and await the arrival of the team's medical personnel to ensure that the player is attended to and escorted off the field. The game and play clock will stop [if running], and remain frozen until the player is removed from the game."
This added power to affect games, and with it the need for spotters to remain completely independent, is why the league said a month later it was letting go of any ATC spotter "who has worked as an athletic trainer at any time for a team or who has been employed by any NFL team within the prior 20 years," according to ProFootballTalk. At the time, one of the ATC spotters who was let go told PFT that the league had "put people who are much less able to know what's going on down on the field (since they've never been there, as an Athletic Training Intern, ATC, or otherwise) and are going to be calling and stopping play for things that are not necessary."
McCarthy said, "It was done to avoid even the appearance of a conflict of interest." This is a noble-sounding goal until you look at the involvement of Elliot Pellman, who represents the biggest conflict of interest of all.
---
What exactly does Pellman do with the spotters? Two sources with direct knowledge say that he has been on conference calls in which concussion spotters receive directions on procedures and protocols, and instructions on what to do (and not do) during a game. Both sources said the instructions Pellman gave were fine.
During the early years of the program, one source said, Pellman was cc'd on reports sent from spotters, though that these were later sent only to NFL director of football operations Blake Jones, the only NFL official named on the ATC spotter website. The source added that Pellman was cc'd on all sorts of emails regarding team-related documents—even ones about cleats. When asked why Pellman was included on so many official documents, the source said they were given the impression that Pellman was the NFL's medical director.
---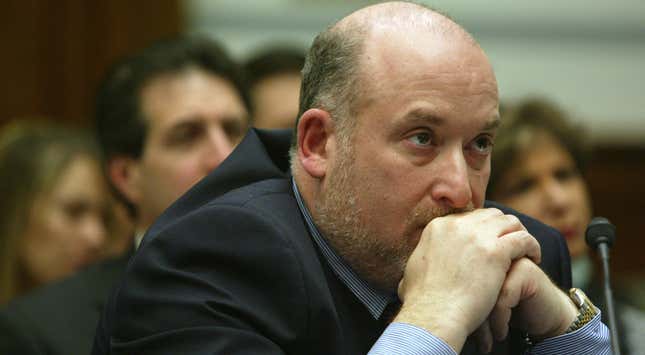 Elliot Pellman at a 2005 Congressional hearing on steroids in baseball; photo via AP
---
Here is how Brian McCarthy, the NFL spokesman, initially described Pellman's role to me:

Dr. Pellman plays an important administrative role in supporting club medical staffs and programs such as ATC spotters at games. He compiles information from the club medical staff and the ATCs assigned to the games.

He shares information with the NFLPA, team physicians, and NFL medical committees. Dr. Pellman is not a member of any league medical committee and neither sets policy nor provides medical advice on any issue. He performs administrative functions for the committees which are responsible for the implementation of the league's protocols and making improvements as necessary.
What does "perform administrative functions" mean? One of my follow-up emails I sent to McCarthy asked for clarification on Pellman's duties. Does Pellman do analysis? Or is Pellman just a conduit from Point A to Point B? I also asked about Pellman's title, whether he outranks Jones, and if he held conference calls with the spotters before seasons started.
This was McCarthy's response:
Fine with you saying medical director. Yes, there are conference calls that Dr. Pellman participates in with the ATCs. Have you read the protocols document I sent that explains the role of the ATC spotter and the other 26 other medical personnel? Blake Jones works with the on-field Injury Video Surveillance crews and schedules of the ATC spotters.

Here's the 2015 NFL Health and Safety Report. It's online. As are the 2012, 2013, and 2014 reports. Page 9 provides an overview of the committees and their work. Dr. Pellman is not on these committees as I mentioned. There are also messages up front that outline our commitment in this area, including one from the first chief health and medical adviser, Dr. Elizabeth Nabel. I'd encourage you to read through this to see how much work has been done and continues to be done.
That was near the end of my emails with McCarthy. But on his own medical website, Pellman provides his own list of his NFL responsibilities. He calls himself "the advisor to the National Football League on medical and health matters." Here is his job, in his own words (emphasis added is mine):

Dr. Pellman is a nationally recognized leader in the field of sports medicine and is the advisor to the National Football League on medical and health matters. In conjunction with committee chairs, he assists in the administration of several NFL health committees and serves as a medical liaison to the league's clubs, Competition Committee, team physicians and athletic trainers, as well as, the National Football League Players Association. As an advisor to the NFL Player Care Foundation, he has spearheaded many of the foundation's health initiatives for retired players.
If Pellman's job with the NFL has changed since the league ostensibly distanced itself from him in 2013, he hasn't bothered updating his website. His description of his NFL duties reads exactly the same as it did in June of that year, before ESPN ran an extensive report noting that Pellman had led the important MTBI committee while also being the personal physician to then-commissioner Paul Tagliabue. (From that article: "When asked why the league still employs Pellman, [league spokesman Greg] Aiello accused an ESPN reporter of 'being on a witch hunt.'") Pellman's description of his duties with MLB, which also ended its association with him that year, has changed, so we know he's updated his bio. But not a word on his NFL duties has been altered.
Pellman was also described, in a passage sourced to a league spokeswoman, as the league's medical director earlier this year in a Modern Healthcare writeup on the NFL bringing on Elizabeth Nabel. It said Nabel would rank higher than any other medical executives or advisers, "including the league's medical director, Dr. Elliot Pellman, who will continue to advise the league on medical affairs."
And here's Pellman, smiling away, in a tweet from the Institute of Sports Exercise and Health, along with the co-chairman of the San Francisco 49ers.
It's worth noting that the NFL isn't the only sports league working through a serious head-injury problem where Pellman continues to work in a medical capacity. The 2015-2016 media guide for the NHL's New York Islanders lists him as their medical director as well.
---
To those who've long followed the NFL's attempts to deal with its concussion problem, Pellman's continued work for the pro football empire will come as no real surprise.
As Patrick Hruby pointed out at Vice, the Pittsburgh Steelers still employ Dr. Joseph Maroon, who, like Pellman, was at one point written into an especially controversial scene in the upcoming Concussion that was eventually nixed by lawyers. On his own website, Maroon says he's still the Steelers' team neurosurgeon and still a part of the league's Head, Neck and Spine Committee. Earlier this year on NFL Total Access, he said, "I think the problem of CTE, although real, it's being over-exaggerated and it's being extrapolated to youth football and to high school football." Maroon added this in the same interview:
There are more injuries to kids from falling off of bikes, scooters, falling in playgrounds, then there are in youth football ... It's much more dangerous riding a bike or a skateboard than playing youth football.
Over the last few years, the NFL has started taking head injuries more seriously. The league has changed some rules, and put some programs in place. It settled the concussion lawsuit earlier this year (although that's still being appealed). There's the often-mentioned concussion protocol; there are more than a dozen committees, subcommittees, and panels studying injury prevention. All of this sounds very good when broadcasters solemnly describe it between plays. But as retired offensive lineman Kyle Turley, who suffers from the very real effects of brain injury, tells me, all of this is nothing compared to what a multi-billion-dollar behemoth like the NFL could actually do to effect change if it truly wanted to.

"The NFL has power, immense power. They could be progressing bills and laws and all these things in support for better protocols at every level for every football player," Turley says. "And they continue to say, 'We don't know.'"
Whether the continued influence of figures like Pellman and Maroon is more cause or effect of the NFL's studied skepticism of the damage the game it promotes can do, the fact is that the damage continues. Concussed players continue to remain in games. It happened with Case Keenum. And with Matt Schaub. And with Brian Hoyer. Those were just this season, with the concussion spotters in place and wielding the power to stop games. Yes, the spotters help. From my reporting, I got the impression that they're all working hard and nonstop during games to spot any injuries, including concussions, that otherwise might go unnoticed. But even a well-intentioned program is inherently limited. No one can rid a violent game of the consequences of violence.
Spotters can't change football culture, which has for more than a century consisted of men like Pellman telling players to play through pain or risk not looking like a man—and risk their futures. Spotters can stop play; they can't do anything about players who fake like they're fine. More than that, 100 spotters could be in every stadium and they still wouldn't catch every head injury, because there's no one type of play that causes them and they can and do happen on pretty much every play, which is to say that they're simply part of the game, a cost incurred in the course of doing business.

"They keep doing things," Turley says, "but it's just for show."
Spotters can, though, take the blame when a visibly injured quarterback staggers back into a game from off the sideline, even while serving as something for the NFL to point to when people ask just what the league is doing. And all the while, the likes of Elliot Pellman will keep collecting paychecks from people who hope no one notices.
Illustration by Jim Cooke
To contact the author, write to diana@deadspin.com (PGP key) or DM @dianamoskovitz.