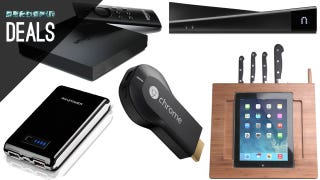 We've got a handful of great streaming box deals for you today. The pair of Chromecasts are a great deal if you have two TVs without them, the Fire TV hasn't really been discounted until now, and the $50 price drop on the top-of-the-line Slingbox is great for anyone who wants to watch TV on the road.
2-Pack of Chromecasts ($55) | Best Buy
Amazon Fire TV Streaming Media Player ($84) | Amazon
Sling Media Slingbox 500 ($250) | Amazon
---
Use your tablet in more places (including the toilet) with these one-day deals.
CTA Digital Bamboo Adjustable Kitchen Stand for iPad with Knife Storage (PAD-BKS) ($18) | Amazon | Today Only
CTA Digital Boom Floor Stand for iPad 2/3/4, iPad Air, iPad mini, Nexus, Samsung Galaxy and Most 7-10 Inches Tablets (PAD-BFS) ($55) | Amazon | Today Only
CTA Digital Wall Mount Lock Box for iPad 2/4G and iPad Air Tablets (PAD-LBOX) ($21) | Amazon | Today Only
CTA Digital Wall-Mount Bathroom Stand for iPad and Tablets with Paper Holder (PAD-WBS)($25) | Amazon | Today Only
Logitech Ultrathin Keyboard Cover for iPad Air, White ($40) | Amazon | Today Only
---
The iconic Rain Design mStand ran away with Lifehacker's Hive Hive voting for best laptop stand, and with good reason. Its minimal, unibody aluminum construction puts most stands to shame in the looks department, while still being sturdy enough to hold bulky 15" laptops. [Rain Design mStand, $42]
If you prefer something a little more minimal, the Twelve South GhostStand is made from two pieces of precision-cut glass, and is also on sale today. [ Twelve South GhostStand, $25]
---
One of our favorite external chargers is marked down to its lowest price ever today on Amazon. [RAVPower Element 10,400mAh External Charger, $24]
---
ThinkGeek's famous Bag of Holding, a Lifehacker Hive Five nominee , is half off today only. It's part of a big one-day sale over at ThinkGeek, so be sure to check out the rest of the deals as well. [The Bag of Holding, $25]