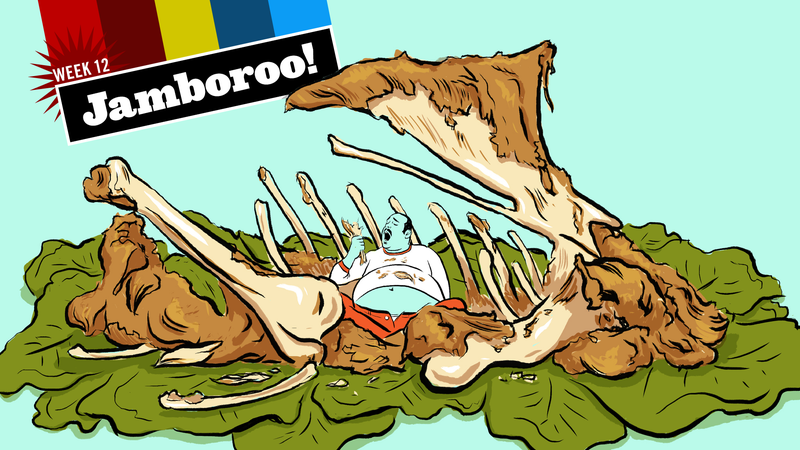 Drew Magary's Thursday Afternoon NFL Dick Joke Jamboroo runs every Thursday during the NFL season. Email Drew here.
Happy Thanksgiving, everyone! Or, at least, it would be a happy Thanksgiving if the lousy CRIPSTERS and LAMETRARIANS in the HATESTREAM media didn't spend all their time trying to convince the world that turkey is shitty.
These are mean times, people. Turkey hatred has become a foul, irritating epidemic that has permeated the Internet, nearly to the point of making it conventional wisdom. Chrissy Teigen hates turkey. Slate hates turkey (what a fucking surprise). Half the Deadspin staff hates turkey, presumably because it's not soccer-affiliated. And on it goes. These people always present their turkey hatred as some kind of undeniable fact. ADMIT IT, they tell you. ADMIT THIS THING YOU DON'T ACTUALLY BELIEVE.
Well, I'm not going to admit that. As a crude purveyor of safe and obvious takes, I am here to defend the PRIDE and HERITAGE of roasting a big, helpless bird and then consuming it every Thanksgiving. Let's go through the standard raft of complaints from anti-Turkites and shoot them down one by one:
1. Turkey is dry. Yeah, that's because you fucked it up. Brine that shit, season it right, and cook it low. Or buy a smoked one, or a fried one from Popeye's. Dark meat will always beat white meat, but in the right hands, white meat can be made perfectly flavorful. YOU MUST INFUSE IT WITH THE GOODNESS.
2. Turkey is bland. Again, seasoning. That's why seasoning exists. Chicken doesn't taste like much until you marinate it and smother it with salts and oils and herbs and then roast it or grill it or stew it. If your turkey is bland, that is YOUR failure. You didn't transform the ingredient in your basket! I guess you just expect everything to be handed to you, eh? SMDH.
3. Turkey is just a "delivery device for gravy." My own boss Tim Marchman, who is a moron, made this gripe. As if being a delivery device for gravy is a bad thing. Go smother a flank steak in turkey gravy and tell me if you've found a more fitting "delivery device" for all that fatty goodness. Marchman then went on to say that rolls were one of the best Thanksgiving menu items. ROLLS. Hey Marchman, what the fuck do you think a roll is? You "deliver" butter and other things onto it, you dummy. That's what makes it good. What a complete asshole that guy is.
The flavor of turkey is obviously enhanced by gravy, but a) The gravy came from the turkey! and b) the two entities exist in symbiosis. Without the meat as the base, the gravy has nowhere to go. The meat works in tandem with the sauce, and therefore the meat is good.
4. "DURRRRR I MAKE RIBS AND TURKEY EVERY THANKSGIVING AND MY FAMILY EATS MORE OF THE RIBS!" Good for you. You cooked one thing well and fucked up the other thing. You want a cookie?
Now here is what is good about turkey: EVERYTHING. The skin is great. The thigh meat is awesome. The drumsticks are great because—despite the fact that it's packed with toothpicks—I like to hold one in my hand and pretend I'm gnawing on a roasted dinosaur. The bones make a wonderful soup. And the white meat makes a fine base for piling stuffing and mashed potatoes and green bean casserole on top. Turkey does many things, and it does them well. Even the neck is good. The neck! Go gnaw on a turkey neck sometime. It's pure savagery. I like eating it in front of the children to scare them shitless. Every year my family lays waste to the turkey on Thanksgiving day, and there's never as much left over for sandwiches as I hope. That's because the turkey tasted good.
And beyond flavor, there's a bit more, isn't there? Turkey is a tradition. You can go ahead and make a ham for Thanksgiving but that ain't a Thanksgiving dinner. That's just dinner. A real Thanksgiving has that huge turkey coming out of the oven, dark and golden brown, BURSTING with crackling skin and salty goodness, its scent wafting through the house, ready for you to pick at. As a centerpiece, a twenty-pound monster bird rules. And in both looks and taste, it evokes every Thanksgiving that came before. It makes you feel loved … secure … rooted in your family … anchored in a perpetual, joyous cycle of love and drunkenness! Turkey has that power. It's magical. Even if I see one on television, I'm like, Aw man, that looks awesome. People all across the country eat turkey every year for Thanksgiving, and it's not because they're brain-dead sheep. It's because they like it!
So cut it out with all this repulsive anti-turkey rhetoric. Today they come for our turkey. Tomorrow, they'll come for our chicken, and our ribeyes, and our lamb chops! DO NOT GIVE IN TO THE TURKEY INFERIORITY COMPLEX. These people are bullies. Fuck them. They are banned from drumstick privileges forever.
The Games
All games in the Jamboroo are evaluated for sheer watchability on a scale of 1 to 5 Throwgasms.
Five Throwgasms
Patriots at Broncos: The officiating has been putrid this season, but it's hard to pinpoint exactly WHY these games have been called so poorly. After all, it's not like the NFL just hired these refs. Gene Steratore has been a ref for over two decades. He didn't suddenly forget how to do his job. In theory, the man knows what he's doing. And yet there he was last Monday night, inventing rules on the fly. If this were simply a case of bad personnel, we could maybe fix the problem easily. But it's not. It's the circumstances AROUND the officials that have exacerbated their weaknesses, to the point where really basic shit slips through the cracks. Here are some of the problems: