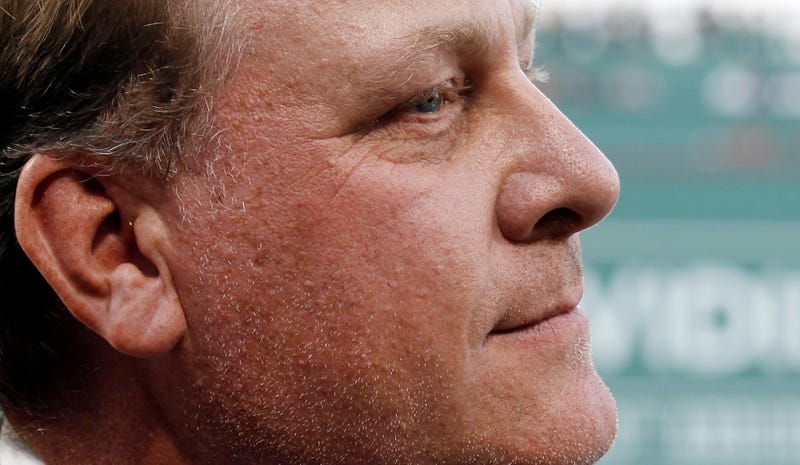 ESPN fired baseball analyst Curt Schilling tonight, two days after he shared an anti-trans meme on Facebook. "ESPN is an inclusive company. Curt Schilling has been advised that his conduct was unacceptable and his employment with ESPN has been terminated," said ESPN in a statement.
This was far from the first time Schilling crossed a line at ESPN. Two months ago, he said Hillary Clinton "should be buried under a jail somewhere." Three months ago, Schilling joked about being fired from ESPN for his donation to Ben Carson. Seven months ago, ESPN had nothing to say about Schilling posting insane memes on Facebook. Eight months ago, Schilling tweeted a meme comparing Muslims and Nazis, and was suspended for it. Shortly after that, he emailed a long, strange rant to a blogger to clarify his thoughts about Muslims and Nazis, and was suspended for the rest of the season.
Schilling publicly and proudly proclaimed bigoted views on a regular basis. He posted repulsive things to Facebook nearly every day, frequently going from the repulsive to the despicable and continuously dehumanizing others. ESPN repeatedly and severely punished employees for far milder violations of its various policies, and yet Schilling just kept on spending his days degrading people who aren't like him.
Finally, ESPN decided they'd had enough. Why is an interesting question.
---
ESPN has long struggled with how to deal with employees who post or say objectionable things and things that some people find objectionable—two different if related things. Eighteen months ago we reported on the "minefield" that ESPN suspensions were creating for talent, and even with Schilling's firing, nothing has changed. The lack of consistency means that ESPNers have no idea what is fair game and what isn't. Employees are justifiably angry that they and their colleagues have been suspended, or could be suspended, for doing things far less egregious than what Schilling repeatedly got away with until he couldn't.