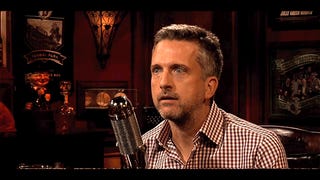 Bill Simmons practically begged ESPN to suspend him, and the oafish and epically tight-assed media behemoth did just that Wednesday night, giving him three weeks for coming to the same conclusion about NFL commissioner Roger Goodell that just about everyone in the thinking public has.
On a BS Report podcast uploaded Monday, Simmons roundly criticized Goodell and called him a liar. Mediaite has the transcript of Simmons's remarks:
"Goodell, if he didn't know what was on that tape, he's a liar," Simmons said Monday. "I'm just saying it. He is lying. I think that dude is lying. If you put him up on a lie detector test that guy would fail. For all these people to pretend they didn't know is such fucking bullshit. It really is — it's such fucking bullshit. And for him to go in that press conference and pretend otherwise, I was so insulted. I really was."
He went on to challenge ESPN:
"I really hope somebody calls me or emails me and says I'm in trouble for anything I say about Roger Goodell," he said. "Because if one person says that to me, I'm going public. You leave me alone. The commissioner's a liar and I get to talk about that on my podcast."
ESPN previously handed Simmons a two-weeks Twitter suspension for criticizing an ESPN radio partner and a three-day Twitter suspension for criticizing First Take. This is the first time Simmons has been suspended for something he said on his podcast, though he has had previous battles with ESPN over how his podcast is edited.