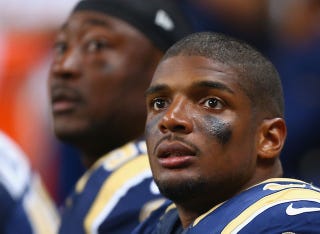 The player didn't want to shower with his team. He was from the wrong side of the culture, and while he could share a field and a depth chart with his teammates, the locker-room shower was too intimate and thus too fraught a space.
After one game Robinson waited for all the other Dodgers to shower before he took his shower. Outfielder Al Gionfriddo said to him, "You're part of this team. Why are you waiting to be the last guy in the shower? Just because in some states Negroes can't shower with whites, that doesn't mean it has to apply here in our clubhouse." The two men went in and showered.

The player is Jackie Robinson, obviously, and the passage comes from Peter Golenbock's account of the integration of the Dodgers in 1947. In the wake of ESPN's blockheaded report about the showering habits of Michael Sam, which has drawn both the ire of Rams coach Jeff Fisher and the attention of The Daily Show, this seems like a good time to step back and think about what this Michael Sam showering story is really about.