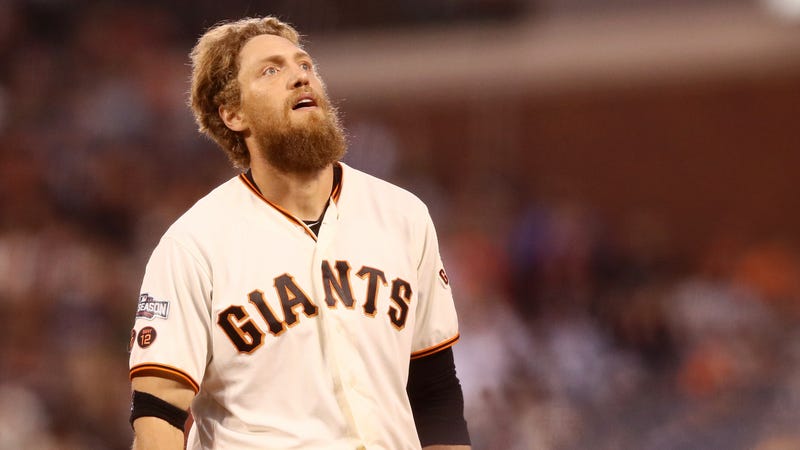 The San Francisco Giants' success in even years has run its course, and we can all breathe easy that there is in fact no higher power devoted to San Francisco baseball.

The Giants started the season as the best team in baseball, and after plummeting to a point where they had to scrape their way into a wild card spot, they narrowly avoided a sweep by the actual best team in baseball. The Giants went out as we all thought they would: outmatched by the Chicago Cubs, and with a blown save to boot.
Game 3 was about as wacky and excessive as you could imagine. The Giants managed to stay alive for 13 innings, taking the series deep into the night to push it to four games with a Joe Panik walk-off sacrifice fly. Game 4 turned the tables—or that appeared to be the case until the final frame. Starter Matt Moore went eight strong for the Giants, allowing only two hits with 10 strikeouts, throwing 120 pitches in total. The Giants showed a shockingly productive offense, as the Cubs flailed at the plate and mentally prepared to send this series back to Chicago and back to how it began: a showdown between Johnny Cueto and Jon Lester.
Three outs in the ninth should have been no problem for the Giants, who had the full bullpen at their disposal following last night's marathon. But the Giants headed into the most crucial half-inning of the year, bringing with them the weight of 31 blown saves. Thirty-one! And then, there was 32.
Giants skipper Bruce Bochy cycled through five pitchers in the top of the ninth. Derek Law allowed a single to Kris Bryant. Javier Lopez allowed a walk. Sergio Romo allowed a two-run double to Ben Zobrist. Will Smith allowed the tying run to score. And Hunter Strickland finally closed it off after allowing the go-ahead run on a single to Javy Baez.
The Cubs brought out Aroldis Chapman for the bottom of the ninth. And that was it. The next game at AT&T Park is in April. Even-Year Bullshit is dead, finally.
The Cubs, you may note, are on a quest to snap their own historic streak. They will move on. The Giants will stay home. The offseason is long. But next year is next year, and all Giants fans are left with until April is the remembrance of the season that went to hell.