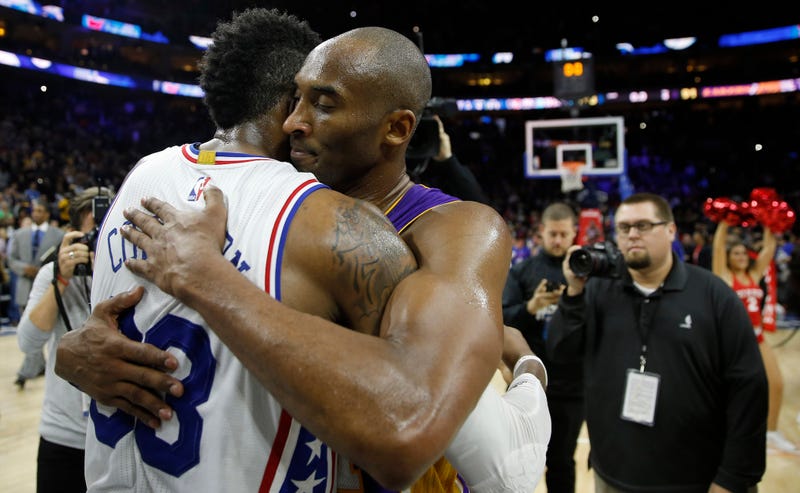 The Los Angeles Lakers' 2-14 unstoppable suck came up against the Philadelphia 76ers' 0-18 unmovable wall of shit in Philadelphia Tuesday night. Something had to give, and on this night it was the Lakers, who despite the better record are probably the worse team, and lost 103-91.
The Lakers' peak came just 76 seconds into the game. That's when Lower Merion, Pa. native Kobe Bryant—who was feted on the jumbotron before the game—hit his third three in four tries, sending the somewhat pro-Kobe crowd into delirium. Would this be his night, in the city of his birth, that the Black Mamba finally found his form?
No, it would not be, because this is his form now. Kobe finished 4-17 on three-pointers, meaning after the initial flurry he shot 1-13. He became just the third player ever to take so many three-pointers and make so few of them. He was a one-man tank job.
And it's not just the numbers. It was also the open three he completely airballed that let us know the hot start was over. It was the ball he dribbled off his foot into T.J. McConnell's arms on the Lakers' last chance to steal the game. It was whatever the fuck this is:
As for the 76ers, what is there to write about a team that has as many as five players who aren't NBA quality, at least according to one NBA executive? Robert Covington—who is shooting 36% and turns the ball over on a full quarter of his possessions—went off for 23 points (guess who he was being guarded by). McConnell made a couple of nice plays at the end of the third quarter to extend the lead. Nerlens Noel worked his ass off.
The funniest part of the victory, of course, is that in notching their first win since last March, the 76ers actually lost. This is a phenomenon we examined when these two teams played last season. The 76ers own the Lakers' 2016 first round draft pick, but it is top three protected. Since the 76ers are one of the few teams that could conceivably be worse than the Lakers, ideally they'd finish with a crappier record and increase their odds of getting the pick. After all, the 76ers have put a flagrantly underwhelming product on the court for the past three seasons specifically to accumulate a collection of high draft picks.