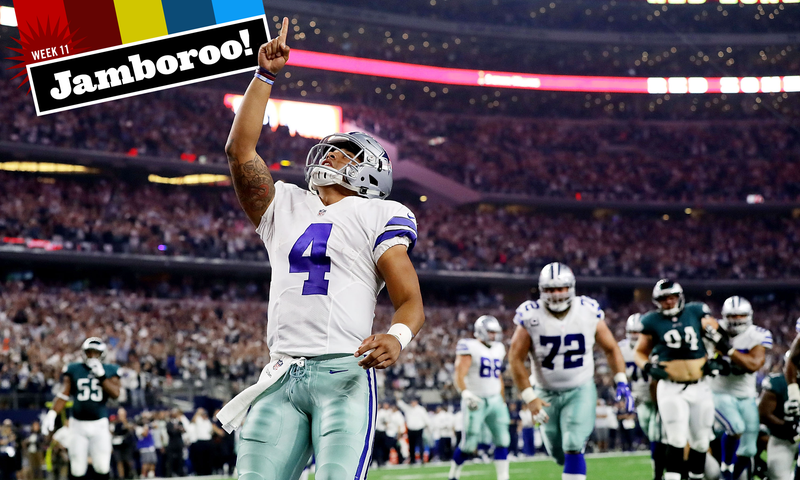 Drew Magary's Thursday Afternoon NFL Dick Joke Jamboroo runs every Thursday during the NFL season. Email Drew here. Buy his book here.

Folks, I have good news: Football is BACK! It's true! I watched this past Sunday and saw it with my own eyes. SUCK IT, HATERZZZZZZ. All football needed was a couple of primetime Seahawks games featuring questionable officiating, a miracle PAT return, and a rejuvenated Cowboys team led by a sensational running back whose domestic violence history could float back to the surface at any moment! PRESTO! Instant resuscitation. Isn't that great? No need to worry about crippling head injuries or the looting of Las Vegas city coffers or the Jets anymore. We got ourselves some ballgames, folks! If the Cowboys and Patriots meet in the Super Bowl, 150 million people will watch and I will stand on a nearby mountaintop, begging any nearby meteors to come take us out. It'll be great.
It just goes to show you that you should never count any sport out, no matter how poorly it's run or how annoying it can be. There's a reason that sports endure, you know. When baseball is good, you get to see the Cubs break a 108-year title drought. When basketball is good, you get to watch LeBron beat back the greatest regular season team in history. When soccer is good, people actually score. When the Olympics are good, I forget all about the embezzled funds and slave labor and start waving tiny American flags around in my living room. Sports are virtually invincible against mismanagement, which is both a blessing and a curse, given how much owners know they can get away with.