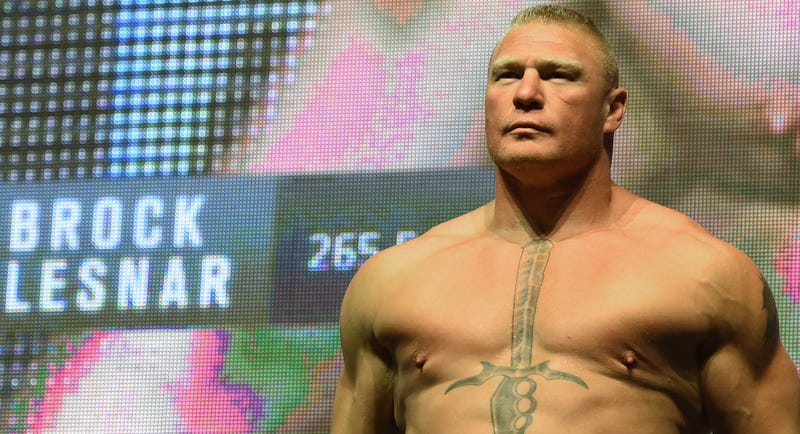 After it was revealed that USADA flagged Brock Lesnar for a doping violation in a sample taken 11 days before his UFC 200 fight against Mark Hunt, Fox Sports writer Elias Cepeda penned a column criticizing the USADA and the UFC because the positive test wasn't revealed until six days after the fight. (It's worth noting here that the UFC waived its own anti-doping policy that says a fighter must submit to four months of drug testing in order to allow Lesnar to fight.)

It was a fair and logical column to write—drug testing shenanigans seem to happen a lot with the UFC—but apparently went too far for Fox Sports, and the column can no longer be found on their website. On Friday night, Cepeda wrote on Facebook that Fox Sports informed him his column was pulled because of concern that,"it would offend the UFC." He also noted that it was, "the second time this has has happened in the past couple months."
You can read the full text of Cepeda's pulled column here, and his statement below:
My column published earlier tonight ("UFC's dangerous drug-testing inconsistency and hypocrisy demands answers") at FOXSports has been taken down because, I'm told, there is concern that it would offend the UFC. This is the second time this has happened in the past couple months. The merits of the story, to my knowledge, have not been called into question this time or the previous time. I stand by both stories. This most recent one is most certainly a strong opinion piece, but I believe it is well-supported. More than anything, the discussion needs to be happening. I will post the entire column as it was published, above, in case anyone wants to read it or share.
Fox Sports and the UFC are broadcast partners, with Fox Sports reportedly paying $100 million a year to broadcast UFC events. Last month, top MMA reporter Ariel Helwani revealed that while working for Fox's pre- and post-fight shows he was paid directly by Zuffa (UFC's parent company), not Fox, and has alleged that he was ultimately fired from that gig at the UFC's behest.