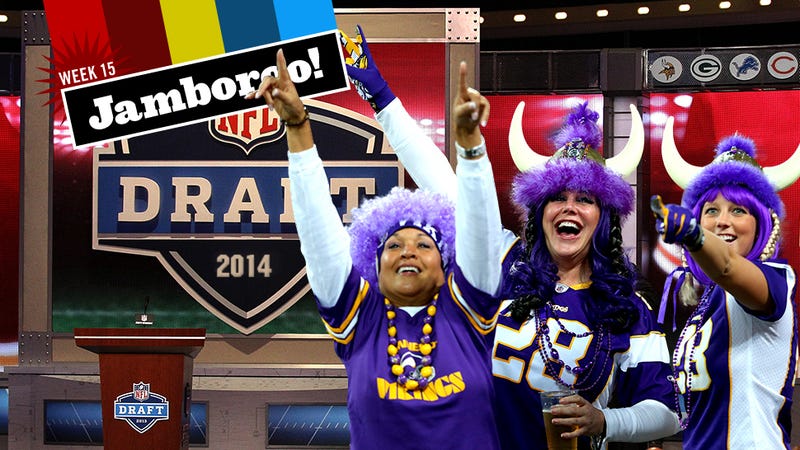 Drew Magary's Thursday Afternoon NFL Dick Joke Jamboroo runs every Thursday during the NFL season. Email Drew here.
I watched the Vikings lose to the Ravens in the most Vikings-like way possible last Sunday and it was agony. They won, and then they lost, and then they won, and then they lost for good, because that's how the Vikings work. They wouldn't be the Vikings otherwise. They'd be some other, awesomer team. Anyway, I watched Vikes-Ravens from beginning to end even though, superficially speaking, the Vikings had "nothing" to play for. They were 3-8-1 with a lame-duck coach and three lame-duck quarterbacks. In theory, the only thing at stake when the Vikings played the Ravens in that snowstorm was their draft position. Their precious, precious draft position.
If the Vikings had won that game on Sunday, they could have theoretically screwed themselves out of a good draft pick, given that there's a raft of 4-9 teams waiting right behind them. Hop on Twitter during any game and you will hear fans of a shitty team rooting for draft position, or consoling themselves after a loss by celebrating the maintenance of draft position. Six years ago, Bill Simmons coined the term "fantanking" for this exercise: the act of rooting against your own team for what you perceive as its long-term benefit. And you now see fantanking regularly as the NFL regular season comes to a close and shitty teams burn off games.
Now here's the thing: If you are someone who is fantanking honestly, and not just bullshitting yourself after a tough loss, then you are a fucking moron. You suck. You really, truly suck.
And I'm not saying this as some kind of moral scolding. I don't think I'm a better fan than you. (I know I'm not.) This is strictly a practical matter, because fantanking makes rooting for a football team an even greater waste of time than it already is. Mathematically speaking, your favorite sports team will play a LOT of supposedly meaningless games in your lifetime. They will make the playoffs only sporadically. They will win a title once in a blue moon, if at all. There's a lot of meaningless horseshit in between all of that, and it make far more sense to CARE. It's more enjoyable to want your team to win every game, no matter what that game is, so that you can get the most out of your time with them.
At its best, your love of a sports team is an unconditional love. You love them when they suck. You love them when they fuck you out of ticket money. You love them when half the defense gets busted hosting an orgy at the local YWCA. And the way that your team pays you back for that love—when they deign to—is by winning, by offering you a fleeting moment of glory in between all that dreck. So you better enjoy those wins when they bother to pick up a few, instead of rooting for them to lose game after game after game just so you can have 15 minutes in the sun while watching the goddamn draft.
Because the more often your team loses, the more likely it is that it will fuck up that draft pick anyway. I'm not gonna dismiss the drama of a three-hour regular season game just so my team will make an even more egregious drafting error. My team—the Vikings—are a franchise that has drafted two All-Pro players (Kevin Williams and Bryant McKinnie) after FORGETTING to draft where they were fucking supposed to. They drafted McKinnie even though they wanted to take Ryan Sims, who turned out to be a huge bust. That's where fantanking gets you: a higher draft pick that ends up sucking and leading you to more fantanking. Last Sunday's game was one of three remarkable games featuring teams (Vikings, Browns, Steelers) who were all but out of playoff contention, and those games were only remarkable if you gave a shit.
And trust me: It's more fun to give a shit, even if the team loses. It's more fun to maintain the bullshit "sense of duty" to your team, so that you can Lord it over casual fans and become emotionally invested—EXCITED!—by whatever game you happen to be watching. The Super Bowl cannot be the only goal of a fan. You will drive yourself out of your mind if that's all you care about because most teams don't win the thing.
We are trained, as Americans, to only want first place or a title, and to think that everything else is shit. But keeping to that makes the fan experience even more miserable than it already is. There has to be some pleasure in week-to-week victories, even if they don't propel you to the ultimate goal. Even if you don't win the Super Bowl, you should still get the pleasure of some random Week 14 upset over a contending team, or a 200-yard performance from your favorite running back, or whatever else thrills you. That has to have value, otherwise you'd only feel the need to root for your team during the last two weeks of the playoffs, and that would make you a Pats fan. You don't want that. It's better to care. It's better to want to win.