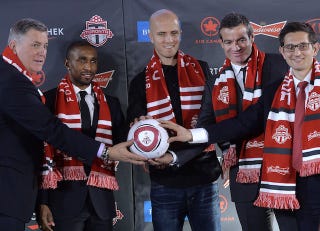 It's about that time of the year again! Timber Joey is gassing up his chainsaw, Thierry Henry is stretching those creaking joints, and Michael Bradley is getting ready to lace up his boots, the prodigal son back on (well, North) American soil after so many years away. Yep, Major League Soccer, the land of has-beens and never-weres, is about to start back up, and nobody cares.
In theory, this year's campaign should be the most interesting season of American soccer offered up since the heyday of the New York Cosmos. In reality, MLS is still a second-tier product, full of dull play and even less compelling players, with a top-down league ownership structure that neuters real competition and an obnoxious, proselytizing hardcore fanbase. All of this makes the idea of following the league just as offensive as it's always been.
First, we'll throw MLS a bone and mention some of the aspects that do make this season different than the rest. Mainly, they involve player transfers. Chief among the acquisitions is Michael Bradley, who recently transferred to Toronto FC from Italian club Roma. The move's appeal for MLS is as obvious as it is immense: America's league is now home to the country's best player, and, in fact, three of the top four. This is good for MLS; while it's long sold itself as the place for Americans to watch the faded greatness of half-dead legends accompanied by lesser players from around the Americas, it's never been shy about its ambitions of becoming the home of America's stars.
Usually this has translated into MLS cultivating young talents like Bradley, Jozy Altidore, and Brek Shea before shipping them to Europe so they can prove themselves at the highest level. In Landon Donovan, they've had the best American of his generation home for almost the entirety of his career. Now, in Bradley, they have the next iteration of that, a U.S. international of proven top-tier ability back on our continent—why couldn't he have gone to an American team so I wouldn't have to keep hedging like this?—for his prime years.