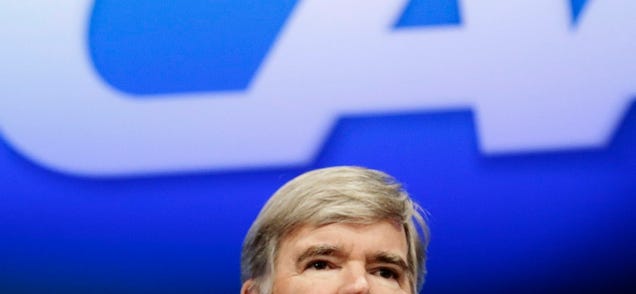 Jay Bilas can declare victory. NCAA don Mark Emmert just said "uncle":
Wow, that's huge. NCAA to exit business of selling jerseys and merchandise of athletes.

— Brad Wolverton (@bradwolverton) August 8, 2013
Emmert on NCAA selling player merch: "We recognize why that could be seen as hypocritical. … We're going to exit that business immediately."

— Matt Norlander (@MattNorlander) August 8, 2013
Emmert: "We haven't determined what to do [entirely] w/ that site. No compelling reason why [we] should be reselling jerseys from [schools]"

— Matt Norlander (@MattNorlander) August 8, 2013
Man, this is great. It took two days to force the NCAA to decide to vacate its store shelves. But look closely at what Emmert's really saying here: Yeah, you guys caught us with our hands in the athletes' pockets, but never mind us. That liability now belongs to the schools and to the Collegiate Licensing Company. Pay no attention to the fraud behind the curtain.
Update (5:37 p.m.): And here's the full statement from HQ in Indianapolis:
"Moving forward, the NCAA online shop will no longer offer college and university merchandise. In the coming days, the store's website will be shut down temporarily and reopen in a few weeks as a marketplace for NCAA championship merchandise only. After becoming aware of issues with the site, we determined the core function of the NCAA.com fan shop should not be to offer merchandise licensed by our member schools."
Photo credit: Associated Press