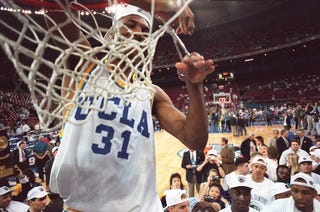 There will be no new release of an EA NCAA Football game this year. The man most frequently blamed for this is a former UCLA basketball star named Ed O'Bannon, who had the temerity to sue the NCAA and EA for using his image without asking permission and without negotiating to pay for it.
The game was built on an elaborate wink-and-a-nod version of the truth. Everyone knew the game was based on real players but because their names were hidden from view,1 and because the player renderings were deliberately inexact, the athletes were supposedly not "in" the game.2
As evidence of the charade became too strong to bear, EA and the NCAA both faced a choice. They could act like a normal business selling a valuable product and negotiate a fair payment for the product's inputs, or they could stop making the product. EA and the NCAA diverged on this. If it could, EA would gladly, tomorrow even,start giving a cut of the licensing fees it pays to the athletes instead of the NCAA, and get the game back on the market, using players names and making the product better as a result. But the NCAA took the other path: It chose to cancel its involvement in a successful, well-loved commercial product, under the idea that canceling the game was "protecting" athletes from commerce. As NCAA president Mark Emmert testified: "It seemed inappropriate that we be in that enterprise if it was controversy surrounding it, so I, with my staff, said at the first opportunity we have, let's extract ourself [sic] from this relationship."
Ed O'Bannon didn't kill the video game. Concerns about commercialism did. NCAA Bylaw 2.9 ("the Principle of Amateurism") states, among other things, that "student-athletes should be protected from exploitation by professional and commercial enterprises." In the O'Bannon litigation, there was a critical moment of the trial where U.S. District Judge Claudia Wilken, faced with evidence of massive commercialization of athletes by the very NCAA member schools that give them scholarships, finally zeroed in on the crux of the issue.
Wilken: "Back to the first part, what—would the exploitation ... that they would be student athletes are—need to be protected from exploitation by commercial enterprises."

Emmert: "Yes. So ... the fundamental notion is that you—you don't want to have student athletes, amateur student athletes, be in a position where they are pitching for—for products and for commercial interests and being—being essentially pitchmen for various products."

Wilken: "Okay. So maybe you don't want that, but do you consider that to be exploitation of them? Or is it just something you don't want to be happening?"

Emmert: "The—when this—when this rule, again, has been discussed by the membership, the answer to that would be both."

Wilken: "You think it's exploitation of them personally."

Emmert: "Yes."

Wilken: "It's harming them in some way."

Emmert: "Yes."

Wilken: "What would that be?"

Emmert: "The assumption is that by providing them with a—again, conversion into—into a professional athlete, that they are no longer a student athlete; they're not part of an academic environment; they're not in a position to gain the advantages of being a student athlete. And being a student at that university there, they're then not avocationally but vocationally in order to make a living off of—off of that process.

Wilken: "And that is what you consider exploitation of them."

Emmert: "Yes."
This exchange highlights something we rarely acknowledge, namely that there are at least two distinct criticisms of the way the NCAA runs college sports. One is that the NCAA is too commercial,3 too much like other professional sports, and that college sports would be better off if they were run closer to the way club sports run—no major television contracts, low (if any) coaching salaries, and certainly no athletes receiving pay in excess of the current scholarship (or perhaps a small stipend to cover incidentals).
The second is a very different critique: that the NCAA should be as commercial as the market wants (which is probably a little bit more commercial than it is now, but not that much), but that in that effort it cannot deny its athletes access to the same market system of compensation that every other participant in the enterprise enjoys. I like to call these two views of the world Team Reform and Team Market, respectively.4
Rarely in coverage of the challenges to the NCAA's business model is this distinction made. Critics like Amy Perko of the Knight Commission and Andrew Zimbalist of the Drake Group are mentioned in the same breath as an antitrust lawyer like Jeffrey Kessler or an economist like me. (Disclosure: I was paid to work on Ed O'Bannon's case, and I have done paid work on other plaintiffs' cases against the NCAA, including White v. NCAA, a class action from 2006 that sought to allow schools to pay full cost-of-attendance scholarships. I've also done pro bono work for other athletes' cases. But this article was written entirely on my own time, was not solicited by or paid for by any client, and is not intended to represent the views of anyone but myself.) But other than a common dislike of the current system, these two groups have very little in common. They have extremely different views of how the world works, and they have very different hopes for how the world will be reshaped once the NCAA stranglehold over college athletics is finally loosened. Indeed, the fact that the Knight Commission came out against the recent efforts of CAPA to unionize at Northwestern is telling in this respect.