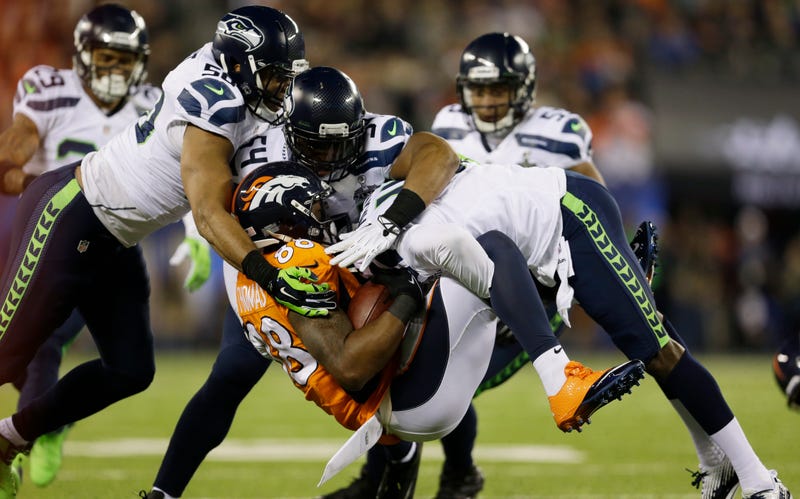 Here is the single most amazing and telling stat of the Super Bowl, via Pro Football Focus: The Seahawks blitzed on just six of Peyton Manning's 51 dropbacks.
Doesn't that seem wrong? Think back on your memories of Manning last night. Beyond the omnipresent Manningface, the lasting image is his happy feet. For a QB who cherishes time in the pocket, Manning was under pressure on nearly every play, unable to get set long enough for anything to develop downfield. You can win a Super Bowl on the strength of a pass rush, and last night was just another piece of evidence.
Malcolm Smith was named the game's MVP, just the third linebacker and eighth defensive player to win the award. His line was sterling: nine tackles (five solo), two passes defended, a fumble recovery, and an interception returned for a touchdown. The INT wasn't his doing—he was in the right place to snag a fluttering ball that went up for grabs because Cliff Avril was on Manning, just as Smith was the recipient of Richard Sherman's munificence at the end of the NFC Championship. He was as good a choice as any for MVP, which is to say there was no ideal choice at all.
The game started and ended up front, as it usually does for these Seahawks, with the likes of Avril and Michael Bennett keeping Manning on the move. Even without much help from the linebackers, their pressure was enough to force one of the game's smartest quarterbacks into quick, occasionally unwise decisions.