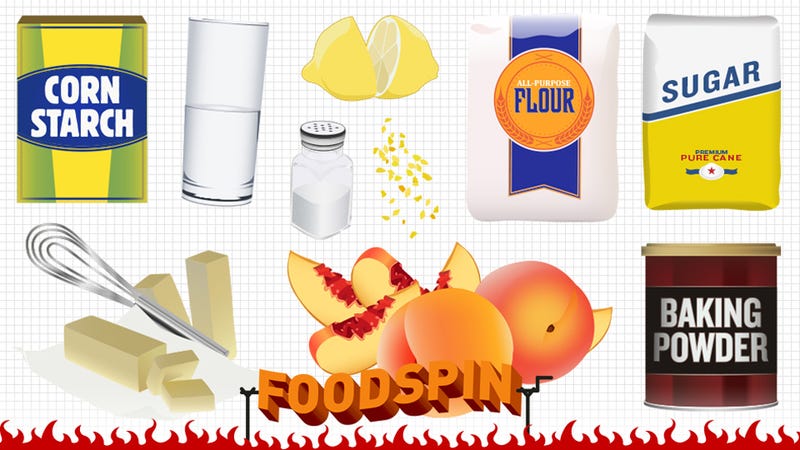 Maybe you don't think of yourself as someone who makes dessert. Maybe you think of dessert as a spoon and a tub of Ben & Jerry's, or a bowl of fruit, or maybe you just don't eat dessert at all because it makes more "sense" to just "eat dinner until you're not hungry anymore" and you "don't want diabetes" because you don't "have a latent death wish" because you haven't "wasted your whole life anyway."
Great. Grand. Good for you. Make peach cobbler anyway, ya friggin' jerk.
Look. I know what it's like. I used to think of dessert-making as something for the blue-haired set and, like, French people and Martha Stewart and successful grownups who have their shit together enough to actually make yet another quasi-meal at the end of a long day. I still think all of that, but I also have some peach cobbler, which makes it OK that my kitchen appears as though a giant picked it up and shook it vigorously for five minutes before dropping it roughly back into place.
The point here is that peach cobbler is goddamn great, and that it's June now, which means that peaches are in season and you are going to turn some of them into cobbler or so help me I will write you one hell of an angry letter. It's easy, it's delicious, and it will finally justify the presence of that 9-inch round baking pan you've had wedged into the back of a cupboard since time immemorial. The following preparation originated as a very delicious recipe from the fine folks at Epicurious, then went through many different, progressively tastier iterations in my devastated kitchen. You'll need a bunch of peaches (I mean, obviously, duh) and a lemon, which you do not currently possess, as well as a moderate number of typical baking ingredients, which you also do not possess, but which your nearest blue-haired or well-adjusted relative certainly does.
Let's get started.
---
The first thing to do is preheat your oven to 425 degrees.
While you're waiting on that, prepare your peaches. A word about that, if you don't mind. And also if you do.
Here's where a recipe in a cookbook would say something like, "Slice 8 peaches into thin wedges," and you would say, "Oh, that seems pretty straightforward," and an hour later you would emerge from your home, sobbing, clutching the mangled, mushy remains of your wasted peaches in your clawed and bitter hands and holding them up reproachfully to the blind, empty heavens. And then, instead of eating delicious dessert, you would change into a black turtleneck and smoke clove cigarettes in the dark and be just the worst, all because nobody bothered to talk to you about working with peaches.
Working with peaches is a pain in the ass—especially if, as all non-synthetic humanoids do, you prefer your peaches slightly softer and juicier, and so buy softer, juicier peaches for your cobbler. Here's why. The first step in producing sliced peaches is to separate the flesh of the peach from the pit; you do this by inserting a paring knife, cutting all the way around the peach in one direction, then grasping the two halves of the peach in your hands and gently rotating them against each other until one of them separates from the pit. Then you remove the pit from the remaining half of the peach by sticking the tip of a knife or your finger under the end of the pit and levering it the hell out of there. If you do this with a ripe, juicy peach, here is what will happen: You will grasp the two halves the peach in your hands and rotate them gently against each other, and the skin of one of them will completely detach from the flesh underneath, which will remain resolutely attached to the pit and far too slimy to handle, and then your peach will be useless for slicing, period, forever and ever, world without end, amen.
You should not infer from this that if you use harder, less fully ripe peaches, preparing them will be a breeze, because it will not be. You will still accidentally pulverize at least one or two of them with your clumsy hammerhands; you will still get sticky peach juice all over your arms; you will still rue the day the first stupid peach budded on the first dumb peach tree. Hang in there. Your eventual peach cobbler, when you taste it, is going to teach you Cantonese.
So eventually, after much wrangling and cursing and cat abuse, you will have transmuted a bunch of peaches into a bunch of peach slices. In a bowl, toss your peach slices with some other stuff: a third of a cup of sugar, the zest of a whole lemon plus most of its juice, and a heaping teaspoon of cornstarch. If you want to add a couple of wee drops of vanilla extract, that's not a bad idea, but it's also not necessary. Use your hands or a big spoon for the tossing, and be gentle: You're not producing sugary peach baby food, here. Once this stuff's all tossed together and there are no pockets of dry sugar or clumps of dry cornstarch anywhere, dump this mixture into an 8- or 9-inch round baking pan and stick it in the oven for 12 minutes.