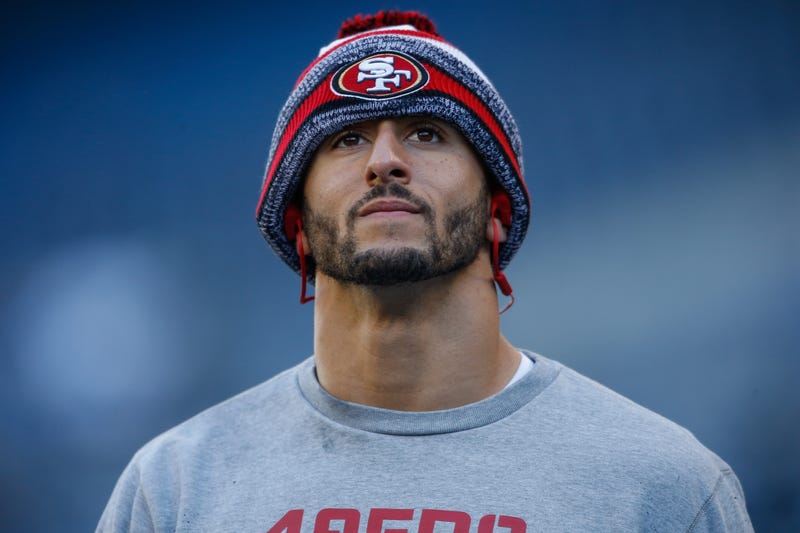 Last week, current Niners QB and future miserable player on a 4-12 team Colin Kaepernick got into a Twitter beef with random Twitter user Stephen Batten (Twitter handle @battman_returns, which is a weak handle when @BattenDownTheSnatches was right there for the taking). It started when Kaep tweeted out his daily workout/study routine…
And Batten threw down a smoking hot #study hashtag…
And then Kaepernick returned fire PEW PEW PEW!
Batten started that day with eight followers and now has 2,000, which if course means that he wins a new boat (I'm told this is how the Twitter economy works). So even though Kaepernick owned the shit out of this random moron, he probably would have been better off never engaging in the first place, especially given that it led to takes like this one:
Isn't this slightly against brand? After all, it was Kaepernick who appeared in a Beats ad, in which fans said far, far worse things to him than did Batten, and the great (pretender) quarterback just put on his headphones to shut it all out.

Perhaps, when he saw Batten's tweet, he didn't have his headphones nearby.

I fancy, though, that there will be at least one amateur psychologist (and a few professionals) who will wonder whether Kaepernick's touchiness betrays a lack of self-belief.
Christ. I mean… I want to spell this passage out large enough to see from space so that the aliens can see it and come vaporize us.
In general, there's nothing to be gained from being a famous athlete and going on Twitter. You're probably gonna have a million followers right away, and I don't even want to know what kind of unholy mix of bots, racists, and stalkers would populate the mentions of a million-strong Twitter account. Within five seconds of creating your account, you will probably receive a dozen death threats. For us pissants, Twitter helps slake a craven thirst for attention. But for you, the millionaire athlete who already has more attention than he requires, it seems like a redundant waste of fucking time. I don't see Tom Brady's life suffering from a lack of social media presence.
But athletes aren't the smartest people on the universe, and they like any social media platform that offers the promise of free pussy. So if you're a famous player looking to expand your online presence (which again, is not at all necessary for you), I am here to provide some advice. I have over FIVE YEARS OF EXPERIENCE USING TWITTER, which sounds impressive because it totally is. Also, I am not Darren Rovell, so you can trust me. Let's go!
1. Never beef*. Ever ever ever. Someone said something to piss you off? Welcome to Twitter, where this happens once every half-second. Observe… (waits five seconds) Okay, I just fantasized about murdering 10 different people. That's how quickly Twitter can generate my inner rage.
But you cannot engage. Ever. The second you reply, you've already lost, because your beefing opponent now knows he's gotten in your head. There is no cash prize for winning a Twitter beef (although there ought to be). And losing a Twitter beef will cause you hours upon hours of inner torment. Can't believe I got pwn3d by that douche! You may even end up driving to Temecula.