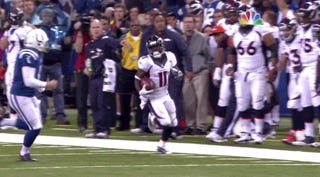 Colts punter Pat McAfee lived out every punter's wet dream last night when he demolished return man Trindon Holliday with a crushing tackle along the sideline. It seems that McAfee's feat of strength didn't go unnoticed by the NFL, as he found an ominous note in his locker today:
Guys... Make one random tackle... And end up on a "Random" steroid test.. Must be my bod #UpperBodyOfAnAdolescent pic.twitter.com/s9B7LrS89Y

— Pat McAfee (@PatMcAfeeShow) October 21, 2013
That test better come back clean, otherwise punters everywhere are going to have to go searching for a new hero to look up to. Don't break our hearts, Pat!