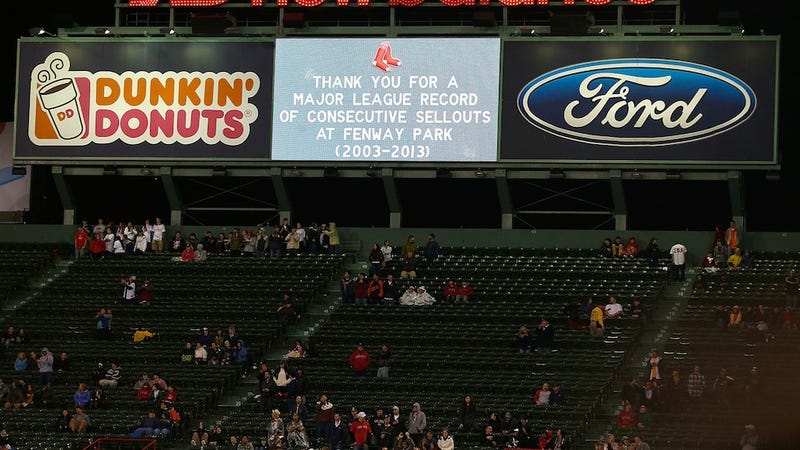 The Red Sox's 10-year sellout streak, which never actually existed, was finally dispatched with a press box announcement. Over the loudspeaker came the number: 30,862. And that was it. It was the sound of the streak getting a bullet behind the ear in some airless Soviet cell.
Thirty-one thousand, eight hundred and sixty-two fans, not bad for a rainy April evening, showed up to watch Boston blow a ninth-inning lead. It was not the first time the Red Sox played before empty seats, but thanks to MLB's liberal requirements, it was the first game not officially announced as a sellout since May 14, 2003. Casey Fossum started that one and got the win; Nomar Garciaparra homered in the first.
The streak spanned heartbreak, two championships, and heartbreak again. It saw Terry Francona deified and run out of town, Theo Epstein go from boy wonder to trade chip. It was a meaningless, artificial selling point that only served to hype ticket demand, a self-serving false prophecy that not-so-coincidentally coincided with the most successful era in Red Sox history.
It was kept alive by means both creative and benevolent. Standing room tickets counted in the total but not against the stadium's capacity; tickets donated to local charities, even if not used, went toward the attendance figure. The hundreds or thousands of tickets withering on the secondary market, going for less than the price of a beer, or perhaps not being re-sold at all, were allowed to count.