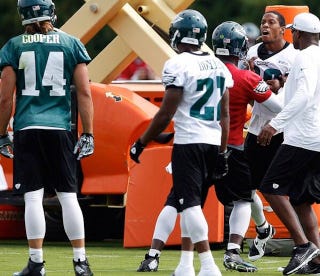 And several teammates had to step in and break it up—including Michael Vick, as you can see in the photo above, which was tweeted out by Philadelphia Daily News photographer David Maialetti.
Update: Here's video.
Here's Jeff McLane of the Philadelphia Inquirer with the low-down:
Williams had to be forcibly pulled away. The fiery cornerback then walked to a separate field and strolled up and down by himself.

Cooper looked visibly distraught and stayed out of one-on-one drills that involved receivers and defensive backs until DeSean Jackson came over to him. Jackson eventually walked over to Williams and had a conversation.
A few other eyewitness accounts from the beat crew:
You'll recall that Cooper had been caught on camera a little more than a month ago shouting some racist shit at a country music concert. Injuries more or less forced the Eagles to keep him on the roster. But in the aftermath, a few of his teammates said they'd have trouble forgetting about it. Williams, a cornerback acquired from the Ravens who's not known for being mild-mannered, had this to say at the time: