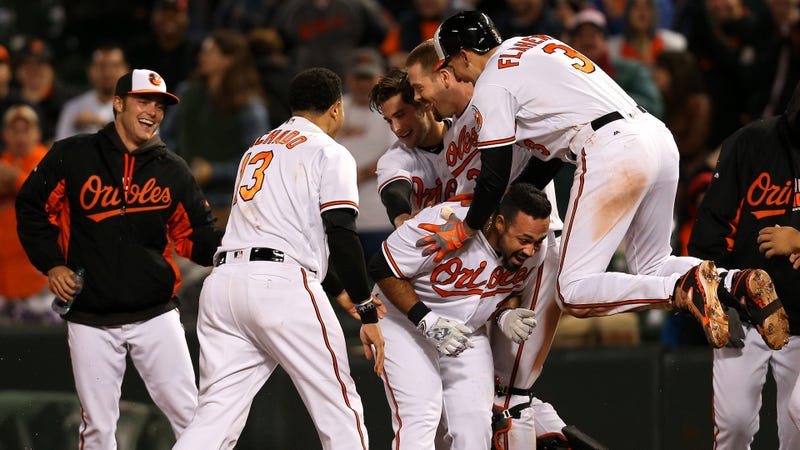 The Baltimore Orioles gave up their chance at a glorious regular season in fits and starts, but mostly in one four-day span from Sept. 19-22, when they hosted the first-place Boston Red Sox at Camden Yards for a four-game series in which they were swept, losing by scores of 5-2, 5-2, 5-1, and 5-3. When it was over, a team that had been in first place in the A.L. East as late as the second week of August was in third place, seven games out.

Still, even after you've forfeited glory, there's the wild card. The current single-elimination wild-card format does a nice job of combining reward and punishment, and Baltimore got there through an appropriately grim, ambivalent, and anxious stretch run and final weekend. They blew a would-be playoff-clinching 3-0 lead to the Yankees Saturday, leaving fans to stew about tiebreaker play-in scenarios overnight, then cleanly finished off New York in their final game. Thus they ended up tied with the Blue Jays for second place and for the wild card, and travel to Toronto for the right to enter the real playoffs.
Who are the Baltimore Orioles?
The Baltimore Orioles are a lax, sleepy team that sends out one unimpressive starting pitcher after another, fails to string together any hits to support them, gets demoralized, and writes off a whole week or two. The Baltimore Orioles are a steely, fearless team that doesn't even care who's starting, because their defense will shut down any opponent while their mighty home-run bats slug them out to a lead that their bullpen will never relinquish, day after day after day.
If you want to try to put a rational frame around this, to explain a team with three seven-game winning streaks and two five-game losing streaks, you could call these two Orioles teams "August" (13 wins, 16 losses) and "June" (19-9). You could call them "road" (39-42) and "home" (50-31). The final explanation here seems compelling enough that the Orioles, contemplating a three-way tie for the wild card, reportedly planned to decline the chance to play two road games, needing to win only one of them, in favor of a single do-or-die home game.
What guys should you know?
Third-base hero-genius Manny Machado is a bit of an oddity on the Orioles, as a widely recognized all-around superstar with a chance at being or becoming the best player in the game. It's tough to argue that his very respectable 37 homers and .294/.343/.533 slash line in 2016 put him ahead of Mike Trout or Mookie Betts, but did Mike Trout or Mookie Betts move off their normal positions to play top-shelf shortstop for a month and a half when the regular shortstop was injured? They certainly did not.
Right fielder Mark Trumbo gave Baltimore the team's fourth consecutive American League individual home-run crown, with 47 generally majestic blasts, leading an offense that was first in the league with 253 homers. As they did with Nelson Cruz two years ago, the Orioles grabbed their home-run champ on the cheap, this time by trading third-string catcher and future social-media personality Steve Clevenger to the Mariners. The bargain big-bat shopping spree also brought them DH Pedro Alvarez, who only hit 22 home runs but joined Trumbo in the Mark McGwire Club, occupied by those rare brawny souls who score half or more of their runs on their own homers.