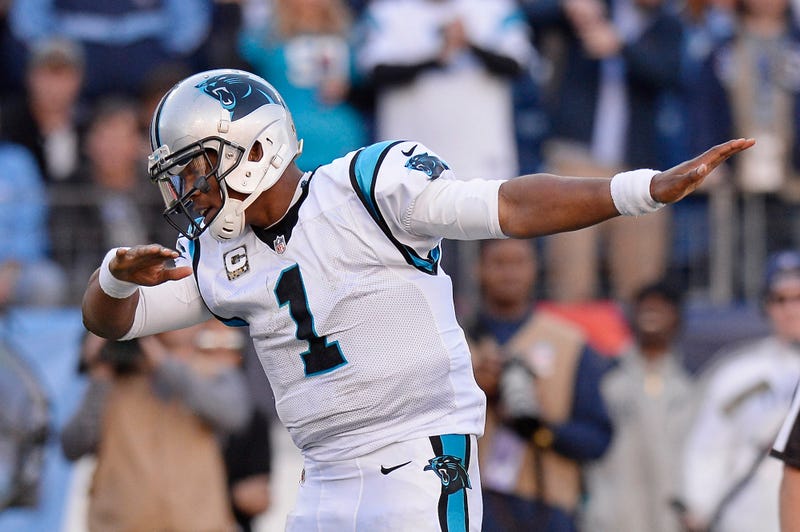 On Sunday in Nashville, the Carolina Panthers beat the Tennessee Titans 27-10 and extended their record to a perfect 8-1. Panthers quarterback Cam Newton sealed the game late in the fourth when he took a snap from two yards out on third and goal, bullied his way to the right, and reached over four Titans for the game-clinching touchdown. Then he started to dance and some people lost their shit.

He was dabbing, though that's unimportant. What is important, though, is that two Titans linebackers, Avery Williamson and Wesley Woodyard, likely frustrated that their team is perhaps the worst in the whole dang league and that they just dropped another game, took umbrage that Newton was dancing. They got in his face; instead of being cowed by his opponents, Newton proceeded to hit dem folks. It was funny, and then it was over. A few minutes later, so was the game.
It's Tuesday now, but over the last two days, there's been so damn much ado about a few seconds of dancing. Yesterday, Titans interim head coach Mike Mularkey addressed the touchdown celebration.
"I know Avery was frustrated by it, but I think there was a whole lot of people frustrated by it," Mularkey told The Tennessean. "It's a little rubbing-it-in-your-face type of deal, which there's a little code of ethics in the NFL. (It's) not a good move."
Yesterday on First Take, Skip Bayless called the dance, "a little much for a franchise quarterback."
"We've talked so much about the maturation of Cam Newton, his emergence as the leader of this football team," Bayless said. "And in this case, I thought it was a little beneath him to celebrate like a diva wide receiver would. Get all caught up in the emotion and go into a more lengthy celebration.

"So no big deal, but if you ask me if I have a problem with it, the best way I can put it is, I did not love it."
Today, the Charlotte Observer ran a letter from a Titans fan named Rosemary Plorin who attended the game with her daughter, chiding him for not thinking of the children.
Because of where we sat, we had a close up view of your conduct in the fourth quarter. The chest puffs. The pelvic thrusts. The arrogant struts and the 'in your face' taunting of both the Titans' players and fans. We saw it all.

I refuse to believe you don't realize you are a role model. You are paid millions of dollars every week to play hard and be a leader. In the off season you're expected to make appearances, support charities, and inspire young kids to pursue your sport and all sports. With everything the NFL has gone through in recent years, I'm confident they have advised that you are, by virtue of your position and career choice, a role model.

And because you are a role model, your behavior brought out like behavior in the stands. Some of the Panthers fans in our section began taunting the hometown fans. Many Titans fans booed you, a few offering instructive, but not necessarily family friendly, suggestions as to how you might change your behavior.
It's instructive not only that this non-story has somehow endured through today, but how. Mularkey made a plea to the NFL's unspoken code of ethics, alluding that Newton was somehow disrespecting the sport. Bayless made the racially loaded claim that a celebration was beneath a quarterback, befitting a "diva" wide receiver. Plorin deemed him oversexed, arrogant, and a danger to kids.
These are all common tropes, often proffered when certain athletes dare to exult in their own victory, arrogantly, without any semblance of humility. We still see it all the time, like with Seattle Seahawks cornerback Richard Sherman, who two years ago made the play of his life and then sent the nation into hysterics by having the audacity to be fired up in a postgame interview with Erin Andrews. He, like Newton and any number of black athletes who went off the safe and paternal script, forgot his place.
Long after the NFL was integrated and black players inundated the league at virtually every position, they were still deemed unfit to lead men, either as a head coaches or as quarterbacks. In 2003, the NFL instituted the Rooney Rule, mandating that NFL owners must interview at least one candidate of color for all coaching and front office roles in order to insulate owners from their own racism. Now, the last bastion of white paternalism is the quarterback position, where QBs are still viewed by some as adults in a room full of mostly black boys, moral paragons to show their teammates true north.