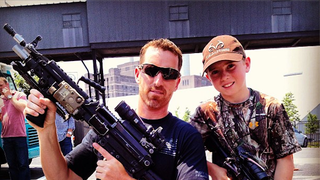 No big deal, just the Washington Nationals first baseman and his son enjoying a summer day with their guns. Someone should introduce these two to Brek Shea. I bet they could team up for a kick-ass Fourth of July party.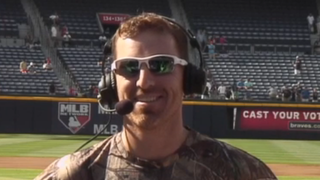 Last Friday, Nationals first baseman Adam LaRoche went on MLB Network's Intentional Talk to rap about huntin' and prankin' with Chris Rose and Kevin Millar. The entire interview is below, but you should skip ahead to the 3:10-mark to hear LaRoche talk about the time he started a prank war that began with him cutting…
Bad break for the Nationals on this one. Adam LaRoche took Cliff Lee deep over the wall at Citizens Bank Park. Unfortunately, it hit flush with a small fence on top of the wall, bounced straight up and back onto the field. Jayson Werth thought it was a home run. Adam LaRoche thought it was a home run. The MASN booth…
The Pirates first baseman on this week's Nate McLouth deal: "It's kind of like being with your platoon in a battle, and guys keep dropping around you." Kellen Winslow adds: "We don't care about nobody except this P." [ESPN]
You know, it's really difficult to find a species of human being with a more refined sense of humor than a professional baseball player. Hell, the Padres all urinate on each other, after all.