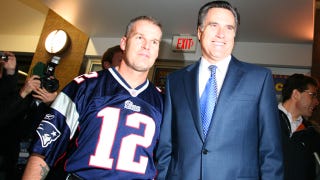 The debate Wednesday could be compared to many things—a slow dance in which the partners are holding potato peelers to each other's throats, perhaps, or a restaurant in which you, the diner, get to watch a prep cook slow-spit on your burger before it's served—but of course everyone immediately turned to sports…
Four teams of women—two from South Korea, one from China, one from Indonesia—were kicked out of the Olympics after they all attempted to lose their matches in the group stage. It was a farce, bringing boos from the crowd and condemnation from the Olympic and badminton communities. Yet the fault lies not with the…
A bizarre scene unfolded yesterday at Wembley Arena as badminton teams from China and South Korea both attempted to throw the match in order to attain a preferable elimination round seed and drew massive boos from the audience for playing roughly in the manner you or I would while drunk at a backyard barbecue.
You may notice some wardrobe changes while watching beach volleyball at these Olympics: A good number of teams will forego the traditional bikini in favor of loose-fitting shorts and t-shirts. But not the principled American women! The U.S. beach volleyball team will stick with the briefest of uniforms that they've…
Russian President Dmitry Medvedev posted a video to the official Kremlin blog yesterday, in which he extols the virtues of badminton and urges the youth of the nation to take up the sport. Even better, he calls in Vladimir Putin for a friendly game. We have taken the liberty of translating the video for you. Enjoy.
Got an image you'd like to see in here first thing in the morning? Send it to tips@deadspin.com. Subject: Morning crap
Ed Leong, 86, fights San Francisco City Hall over badminton court use fees, wins. Fear the shuttlecock. [Wall Street Journal]

Lin Dan, or Super Dan, is China's top badminton player. He's also had a few run-ins with authority figures. There was the time he tried to hit another player's coach with his racket. And the other time he took a swing at his own coach with a racket. None of that, however, has stopped the 24-year-old from becoming a…
Debate raged on ESPN Radio into the wee hours this morning over which athlete is more dominant; Tiger Woods or Roger Federer? Then the argument shifted to which team was the most dominant in all of sports history? The 1980s 49ers came up, as the did the '80s Lakers. John Wooden's UCLA basketball teams need to be…
Do me a favor. Click this link, check out the headline, then come back. I'll wait.
Sad day in the world of badminton: The New Zealand national badminton team has changed its name. What was it, you ask? Why, the New Zealand Black Cocks, of course.