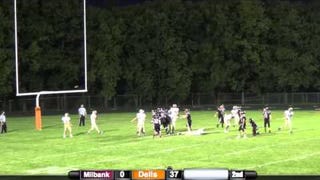 Via FTW, this freakish occurrence took place last week in South Dakota, and that defender was standing in the absolute perfect place for the assist, like it was the plan all along. Why was he there? Were they afraid Dell Rapids was going to go for two to extend its lead to 39-0?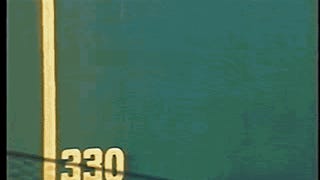 In 1985, Reds catcher Johnny Bench made a series of ads for Kool-Aid that masqueraded as mini-lectures on how to play baseball. Since we're on the Kool-Aid beat today, we thought we'd bring you a few bloopers from the production of those spots.
With a runner on third in the second inning of this afternoon's game, Jhoulys Chacin got a little too casual snatching at the return throw from his catcher. He deflected the ball into the precise no-man's-land between the mound and second, and Juan Francisco scampered home with Atlanta's first run. The Rockies'…
Jason Bay has never been known for his glove (or hasn't he?), and in recent years he hasn't been known for his bat. So maybe that's why he gave 110 percent last night in trying to track down a fly ball off the bat of Gregor Blanco. A valiant effort, and a ton of glove on the ball, but all Bay has to show for his…
Until we could get word on his condition, we've avoided making fun of Marc-Andre Fleury's collision after leaving his net for a poke check on Frans Nielsen's breakaway at the end of the second period of a 5-3 Islanders win. Stifle mirth no longer! The Penguins netminder is fine after taking an elbow to the head from…
Kane Williamson was a hero on the fifth day of New Zealand's test against South Africa, and not just because he recorded a century and salvaged a draw after entering the afternoon facing down an enormous deficit. Early on he took a ball directly to the groin, a delivery that split his cup—or as per the cricket term,…
The Wild, down three with four minutes remaining in regulation, miraculously sent the game to overtime on Devin Setoguchi's goal with ten seconds left. It's hero and goat for Setoguchi, who wiped out on Minnesota's last shootout attempt. Since forward progress was stopped, Carey Price didn't need to make a stick…
Tipster Andrew D. was kind enough to share this video of a foul ball deflecting from the stands at Progressive Field in Cleveland onto the dome of a sideline cop. At first, he's on the edge of seething, but then he sees the whimsy of the moment and just goes back to his responsibilities to God, Country and Team.
That's Detroit's Ryan Raburn with the Cansecoesque slap assist on Miguel Olivo's fly ball to left. Ryan, you have joined the immortals. [MLB.com]
Swansea City, or "The Welsh Barcelona" as nobody in their right mind calls them, have been doing rather well this season. Despite losing their second dapper manager in as many years after Paulo Sousa left for Leicester, they are currently second in the Championship and playing some proper tidy football.