One of the challenges of writing about things on the internet is having the discipline to contain yourself, for the sake of being able to call an item of work finished instead of knitting it into some mammoth all-encompassing rant about, like, American culture or capitalism or the human condition or whatever that will…
What is your city's Williamsburg? What's its hippest—or formerly hippest—or sometimes just youngest—neighborhood, the one with the art galleries and the boutiques and the lines for brunch? (And what, for that matter, is its Bushwick, or "Next Williamsburg"?) If you don't know off the top of your head, don't worry. We…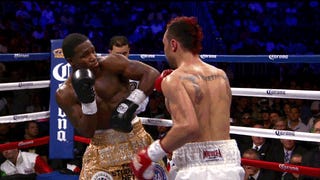 Imagine being a Brooklyn kid, born and raised in Brooklyn, representing Brooklyn, wearing "Brooklyn" clothes and yapping about Brooklyn! your whole life. And finally they build a big world-class stadium in Brooklyn, and you, the Brooklyn kid, get to headline a night of boxing there, and when you get off the train at…
The Islanders will soon be calling Brooklyn's Barclays Center their home, and the geographical change may also be accompanied by an aesthetic one. Sources tell the New York Post that the team's sports marketing team is weighing the adoption of a new color scheme, and that they are already showing prospective designs…
Picture courtesy of A View From My Seat, which lets users upload photos of the sightlines at various arenas. If the $255 tickets selling on StubHub for section 225 (pictured above) strike you as a bit steep, why not move slightly to the left, over to the cozy confines of section 226, and pay only $231?
Elizabeth A. Harris's New York Times piece today asks the question everyone else forgot to ask: Why is the Barclays Center, home of the relocated and rebranded Brooklyn Nets, covered with rust?
It was Williamsburg Night at MCU Park, home of the Brooklyn Cyclones, a hipster-friendly mashup of the usual minor league quirkiness and a particular local flair. (And probably super-familiar for attendees, since they all moved to Brooklyn from the Midwest three years ago, amirite?) Among the promotions were a pregame…
So, we had a tornado here in New York yesterday evening. Most people took it in stride. These bros in Brooklyn freaked right the fuck out. Let's enjoy.
In sports, everyone is a winner—some people just win better than others. Like Daniel Goldstein, the last man standing between the Nets and their shiny Brooklyn arena, who just got $3 million to sit down. That stinks.