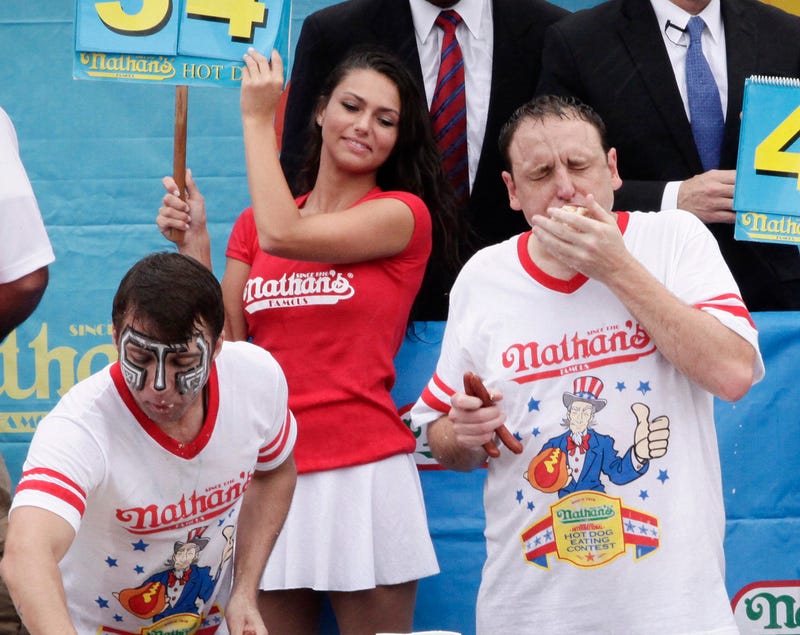 Joey Chestnut ate 61 hot dogs today to win his eighth straight Nathan's hot dog eating contest for the men, while Miki Sudo won the women's competition with 34. But we know what you're here for. You want high-quality photos of sweaty hot dog eaters in action, right? Hell yeah you do. You're welcome.
Lately I had the strange experience of voting among the jury of a documentary film festival's sports documentaries, and finding that my top three choices were nowhere among those the festival recognized. Big deal; tastes differ. Still, I couldn't figure how my top choice, Bending Steel, wasn't everyone's favorite.…
First time I ever stepped onto Coney Island was to cover the Nathan's Famous Hot Dog Eating Contest, which is a lot of capital letters to ascribe to an event in which men and women choke down mountains of tube steaks on national television, yes, but indeed an event you should attend to if you consider yourself a…
We deputized AnimalNY's Bucky Turco to document the goings-on in Coney Island yesterday. This is what he came back with. ("Sorry, just woke up," he writes.)
Takeru Kobayashi didn't compete in today's Nathan's Famous Hot Dog Eating Contest, but he showed up at Coney Island anyway and got himself arrested. We were there and got some video.
Is there anything more distinctly American than celebrating our independence by holding a contest to see who could consume the most processed meat? Photographer Erin Siegal and I ventured out to Coney Island to take it all in.