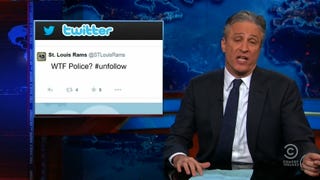 We've become accustomed to all this by now, but since not everyone can catch The Daily Show it's become our responsibility to bring it to you: the inevitable takedown of this weekend's ridiculous apology-non apology about the St. Louis Rams doing "Hands up, don't shoot" before their game Sunday.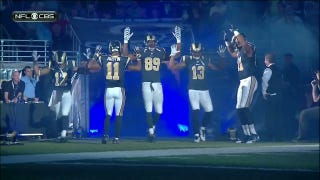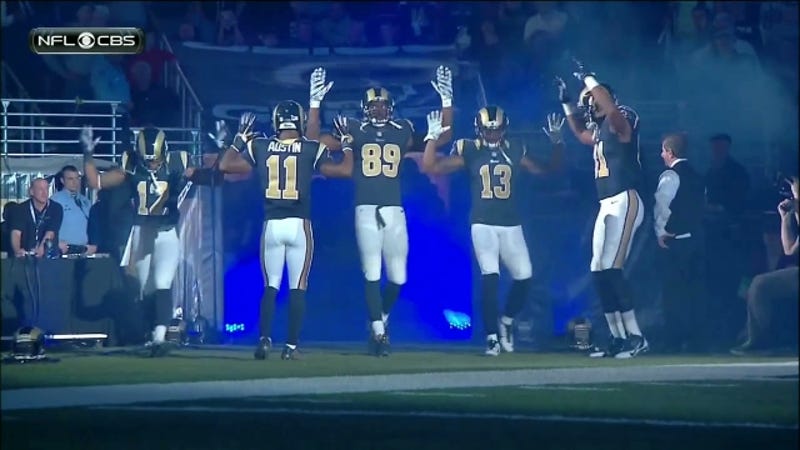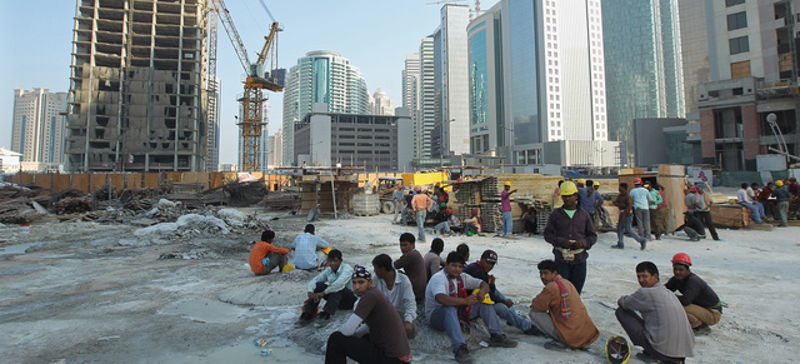 Ron Jaworski's been counting down his list of the best NFL quarterbacks, and Matthew Stafford, despite clocking in the top five in most statistical categories, landed at No. 14. Is Jaws right, and Stafford's sample size too small? Or could you stick a lump of Shaun Hill-shaped beef behind center, and expect it to put…
OK, obviously, what happened down the left-field line at Yankee Stadium last night was some ludicrous, amazing bullshit, and umpire Mike DiMuro is a disgrace. But what about Dewayne Wise? By acting as if he had the ball in his empty glove, was he cleverly grabbing any available competitive edge, like Derek Jeter…
Here's the definitive camera angle on the play from yesterday's Packers-Giants game that everyone is so twisted out of shape about. Greg Jennings is on his way to the ground, and the ball is a fraction of a second from being wrenched out of his grasp, and you can clearly see—what? Unless I missed the day the NFL…
Antonio Margarito won't be fighting in the United States for at least a year thanks to a unanimous ruling by the California State Athletic Commission yesterday afternoon.
There may be nothing in the rulebook that says a mule can't play football, but there's another rule book out there that apparently does say something about girls not being place kickers. That was news to Kacy Stuart, a 14-year-old lass from Spaulding County, Georgia, who is playing for the New Creation Center…
According to the Wall Street Journal, Nike acted because the new Hyperdunk ads were deemed by some to be offensive to blacks and gays. Which is, in two words, patently absurd. It also raises an interesting question: why can't a sports company just say that their ads are meant for non-idiots?