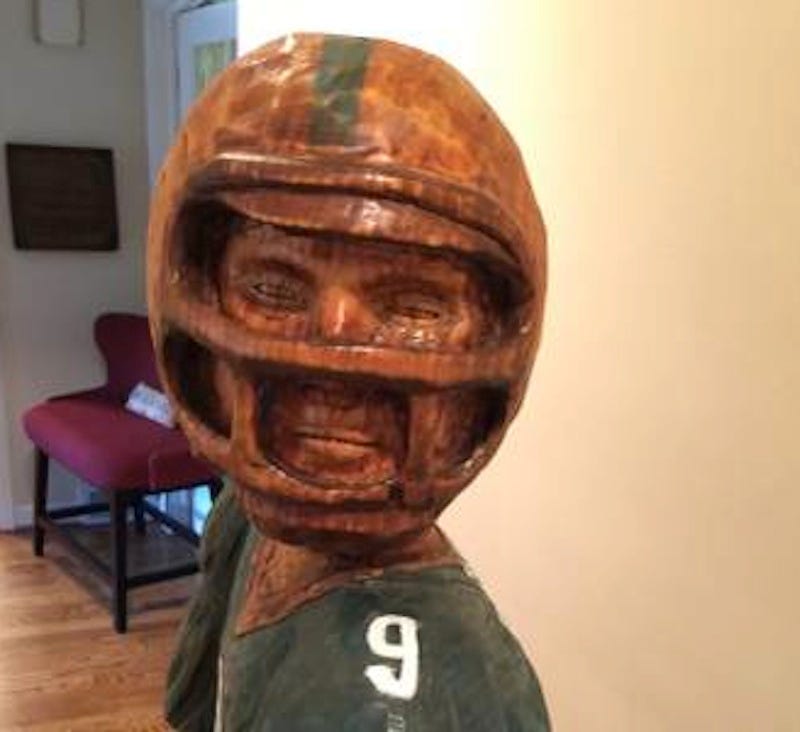 This custom-made, 62-inch wooden statue of Lions quarterback Matthew Stafford is currently on sale for $1,500. It is imperative that someone out there buy it and destroy it, so that the curse binding a tortured soul to it for all eternity can be broken.
The Cleveland Browns have been rock-solid at holding onto the ball lately, and CBS decided to call attention to the fact that they'd gone 99 straight red-zone drives without a giveaway. That's the longest active streak in the NFL, or at least it would be if they hadn't immediately turned the ball over on that very…
The U.S. men have just been disqualified in the preliminary round of the World Relays 4x100 meters due to a botched handoff. They will not advance to the final. The curse continues. Discuss.
On Thursday morning's First Take, Stephen A. Smith expressed his disbelief that Kobe Bryant would miss time with an injury by saying "nigga, please." This was not a thing he should have said on TV, yet he did. It was barely noticeable, but at least one person noticed, uploaded the video, and certain folks began…
Can we talk about this? Can we talk about everything wrong with the notion that if the Cubs are to succeed—if they are to finally, evitably win a championship—they have to first tear down Wrigley Field? That there is bad juju on Waveland and hoodoo on Sheffield and black alchemy on Addison and maybe some cursed pirate…
It is the plot of the least likely Final Destination sequel ever: members of the 1994 AFC Champion Chargers have been dying premature deaths. Even more premature than the average CTE-doomed football player: with Lew Bush's death last week, seven eight players from that Super Bowl team have passed away before the age…
You may want to avert your delicate sensibilities from today's Greenville (S.C.) News, because they accidentally printed a naughty not-for-old-people-who-still-subscribe-to-newspapers word in today's story about the SEC Title Game. It's easy to miss, subtly placed in the flow of the text, but look very closely at the…
St. Louis Cardinals, still reeling from the magical season of 1985 that just missed ending in a World Series win, might not want to hear about this, but you never know: Maybe they'll want to burn it. As the final year of St. Louis' Busch Stadium draws to a close, the Birds are auctioning off some old crap they had…

In 1984, the San Francisco Giants, back when the team was terrible and the sports information was wacky, introduced the Crazy Crab, a satirical mascot meant to skewer the concept of a mascot all together. The notion was that Crazy Crab was an anti-mascot, one that would take the abuse of fans frustrated with a…
The San Francisco Giants, thanks largely to a balky knee that has absolutely nothing to do with steroids, are 14 games under .500, 11 games behind the first-place San Diego Padres and appear stuck in a rather large ditch with poor plumbing and a strange puddle of something green. But a new theory explaining the…
What would you do if you were pitching so poorly that the Tampa Bay Devil Rays wanted to send you to the minor leagues? Legitimate question: No one seems to have any idea what happened to starter Dewon Brazelton. His agent released a statement and now isn't talking, and no one in D-Rays' front office has any idea if…