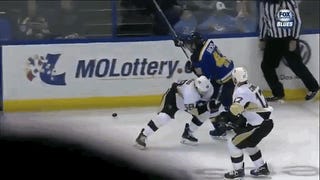 To be clear, Marc Methot's hip check is much smoother than Kris Letang's effort on David Backes, but the Penguin got the job done.
Blues-Blackhawks shifts to Chicago tonight, with St. Louis up 2-0, but things are already getting desperate. Brent Seabrook was suspended three games for a dirty hit on Blues captain David Backes on Saturday, and now audio has emerged of that post-fight scrum appearing to capture Chicago's Duncan Keith taunting a…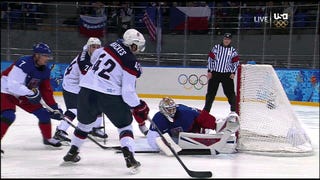 David Backes scored this ridiculous goal with a second and change left in the first to put Team USA up 3-1 over the Czech republic. Under Ondrej Pavelec's glove, off the inside of the far post. Gorgeous—and it might not even have been as difficult as his perfect pass to set up Dustin Brown earlier in the period.
Via Fox 2 St. Louis, we now have the most endearing story of 2012. David Backes is a good hockey player. They don't have to do good work to stand out. But Backes is the captain of the St. Louis Blues—they're good too, mind you, with the second-highest point total in the Western Conference—and he has 16 goals and 21…