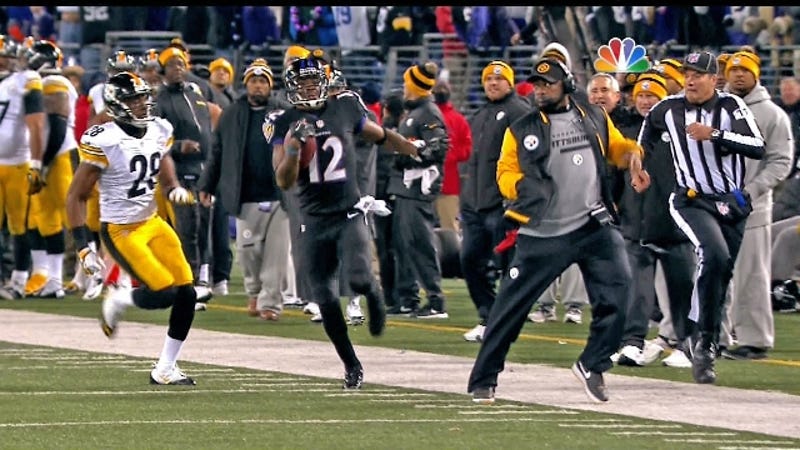 Steelers coach Mike Tomlin sees Jason Kidd's staged soda spill and raises him an "'accidentally' step onto field and prevent Jacoby Jones from reaching the end zone on a kickoff return."
Bryant McKinnie went on his Baltimore radio show Wednesday to deny most of the details in TMZ's report about his birthday party. (In case you forgot, it involved Jacoby Jones getting hit on the head with a champagne bottle on a party bus by a stripper named Sweet Pea.)
Good news, everyone. Former Ravens linebacker Ray Lewis, now an ESPN analyst, has some opinions about the recent party bus incident during which Ravens wide receiver Jacoby Jones got whacked with a champagne bottle by a stripper named Sweet Pea. What's Lewis got to say about the whole situation? Pretty much what you'd…
Earlier today TMZ broke the story of Bryant McKinnie's birthday party, which started with a club party and ended with a fight in a party bus, reportedly sparked by a stripper breaking a bottle of Armand de Brignac over Jacoby Jones's head. OK, everyone said, sounds like a typical night out with McKinnie. But tell us…
It was reportedly Jacoby Jones that got hurt ("Questionable–Bashed over head by stripper"), but this is just more evidence that Bryant McKinnie's social life needs its own Hard Knocks camera crew.
That one play saved hundreds of thousands of dollars for furniture shoppers and, more importantly, it gave Gardiner's Furniture a truckload of free advertising. The deal went like this: If you shopped in the store between January 31 and 3 p.m. Super Bowl Sunday and the Ravens took either the opening kickoff or the…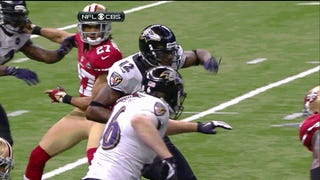 Here's how the Ravens played in the third: A long Jacoby Jones touchdown return—bad news for the 49ers, obviously—a 34-minute power outage, punt, punt, Haloti Ngata knee sprain (which has him doubtful to return), fumble, Jacoby Jones getting enormously jacked up by Delanie Walker on a kick return. In between, the…
According to CBS that is an NFL record. The Ravens won the opening coin toss and deferred to the second half. The decision allowed Jones to break an NFL record and toss his hat in the ring for Super Bowl MVP alongside Joe Flacco. NFL record and two pretty exciting touchdowns? We like his chances. That is, if they…
We've previously mentioned Baltimore's affinity for the deep ball and here is Joe Flacco, once again, successfully going long. He may have underthrown it just a bit (give him a break though, he did throw it 50 yards downfield), but Jacoby Jones helped his quarterback out. He caught the ball as he fell on his ass,…