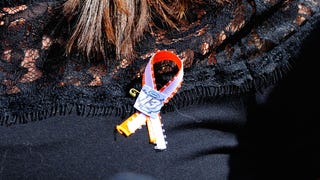 As the world digested the news that Tony Stewart would not be criminally charged in the incident involving the death of fellow racer Kevin Ward, Jr., the balance of public opinion seemed to shift in the NASCAR star's favor. Ward's family is questioning that now in a heartfelt open letter, and a whole lot more.
The obvious question is whether criminal charges should or will be brought against Tony Stewart for his role in the death of Kevin Ward Jr during a sprint car race on Saturday. We won't know that for a while, but we do now know that police have video from a second angle of Stewart's car fatally striking Ward.
A lot of the debate surrounding the tragic incident that led to the death of Kevin Ward, Jr., is just how much visibility former NASCAR champion Tony Stewart had in his sprint car when he struck Ward. This is a view from the cockpit of one of those vehicles.
Kevin Ward, Jr.'s family released the following statement: "We appreciate the prayers and support we are receiving from the community, but we need time to grieve and wrap our heads around all of this." His parents were reportedly at the race last night.
The Cheez it 355, the race Tony Stewart still planned on participating in as early as this morning, began moments ago. Before the race started, Reverend David Fife gave an invocation, which would seem to be an appropriate time for someone involved with the race to acknowledge the tragedy that ended with Kevin Ward,…
While everyone has strong opinions on the matter, no one has any real idea what happened when Tony Stewart ran over and killed Kevin Ward, Jr. during a race last night, and it's possible we may never know what he was thinking from behind the wheel. What we do know is that Stewart has often found himself in conflict…
Despite his team's initial announcement that Tony Stewart would race this afternoon in Watkins Glen, Greg Zipadelli (pictured) just announced that Tony Stewart would not race. Zipadelli said the decision was made after Stewart slept on it and NASCAR has allowed the team to substitute another driver in for the car he…