Here is the most trenchant analyses of one of the biggest sports stories in years, as only MediaTakeOut can offer it: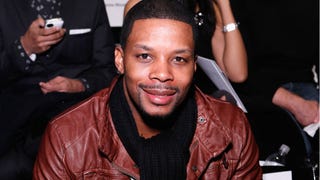 Yesterday, the incoherent jumble of insinuations, flat-out lies and chiiiiiiiiiiiiiillllleeeees that is MediaTakeOut posted a MTO SUPER DUPER WORLD EXCLUSIVE featuring pictures of NFL free agent Kerry Rhodes "ON VACATION ... With One Of His 'MALE FRIENDS!!'" In its homophobic way that villainizes but stops short of…
We already knew LSU cornerback Tyrann Mathieu was a pro. Forget his onfield play; dude already had an awesome nickname and a failed drug test. But yesterday turned out to be the ultimate rite of passage for Mathieu, as he knocked two major accomplishments off his star athlete checklist in one day: get nominated for a…
I secretly hoped that the always entertaining, exclamatory MediaTakeOut would have something dopey to add to the sexual assault allegations against Big Ben and good googly moogly did they ever.
So says the remarkably unreliable gossip hounds at Media Takeout who've "caught wind" that "word on the street" is MJ and girlfriend Yvette Prieto are about to get hitched.