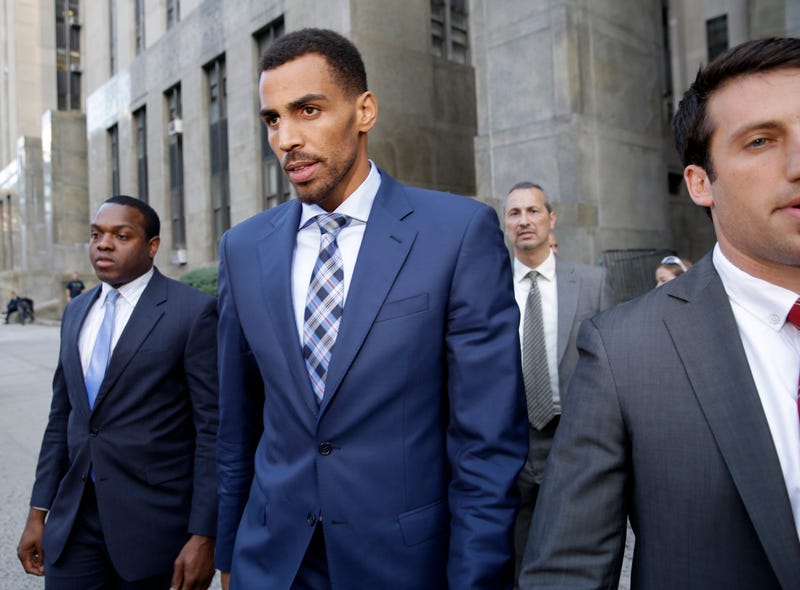 An independent investigation by the Civilian Complaint Review Board determined that the NYPD used excessive force when officers wrongly arrested former tennis player James Blake in September while conducting a credit card fraud sting.
"I don't think he deserves to have a badge," former tennis star James Blake said of the New York City cop who wrongly tackled and handcuffed him on Wednesday. "I hope he can never do that again under the shield of the New York Police Department."

The NYPD has released video of officer James Frascatore taking down former pro tennis player James Blake outside of a Manhattan hotel on Wednesday. It shows Blake leaning against the hotel when Frascatore throws him to the ground. Blake didn't appear to flee or even move as Frascatore approached him.
NYPD Commissioner Bill Bratton has personally apologized to James Blake after an officer tackled and roughed up the former tennis pro outside his Manhattan hotel Wednesday, but more details are leaking about the identity theft sting that nabbed the wrong black guy, and it looks like a clusterfuck.
Atlanta Hawks swingman Thabo Sefolosha hasn't revealed much since he broke his leg while the NYPD arrested him, and today's statement released through the team doesn't go into much detail, but he did publicly hold the police responsible for the injury he suffered.
We'll probably never know exactly why NYPD officers felt it necessary to arrest Hawks guard Thabo Sefolosha outside of 1 Oak early Wednesday morning—the cops claim that they arrested Sefolosha after telling him six times to leave the scene of Pacers forward Chris Copeland's stabbing—but we do know that Sefolosha was…
Police officers turn up a lot in Gawker stories, but unless they're a department commissioner giving a press conference or a union leader loudly berating a public official, it's rare that they actually have a voice. What does the average beat cop think about Darren Wilson or Daniel Pantaleo? What is he looking for…
Things have been exceedingly tense between New York mayor Bill de Blasio and the New York City Police Department following the shooting deaths of Officers Wenjian Liu and Rafael Ramos. After Liu's funeral Sunday, that controversy extended to de Blasio's wife, Chirlane McCray, who NYPD officers accused of wearing…
The NYPD loves cricket. They are so interested in it that they complied an exhaustive report on everywhere to watch the sport in New York City. Let's go hit some homeruns or whatever they do in cricket, and also attempt to bait Muslims into talking about Jihad!